More than two years into the fallout from China's scrap import restrictions, key figures in the recycling industry have united behind the need for increased, immediate federal activity in the space.
But even as they openly back action from the U.S. EPA, executives and official remain wary of major policy changes, instead embracing "voluntary" goals and market-based solutions. The Trump administration, which has pushed market dominance over regulation, believes it can still make progress by addressing public confusion and shifting international markets.
During a Nov. 15 event marking America Recycles Day, EPA Administrator Andrew Wheeler announced the agency would set the goals next year as the government seeks a more aggressive approach to helping both the industry and municipalities.
"Let me be clear: I recognize that establishing goals will not be a simple task," Wheeler said, noting the issues facing communities across the country as they grapple with a myriad of recycling programs and restrictions. But the administrator emphasized that the EPA will "undertake several actions" in the year ahead to address the problems playing out in the recycling sector. 
Peter Wright, assistant administrator of the EPA's land and emergency management office, told Waste Dive​ that the goals will largely be influenced by stakeholder input from a variety of sectors. He indicated that an emissions reduction target could be a part of any final set of goals, fitting in with the agency's ongoing sustainable materials management work.
"I think certainly from EPA's perspective, that would be one thing we continue to bring to bear," Wright said, noting that conversations in the industry have increasingly focused on "the total life cycle" of recyclables.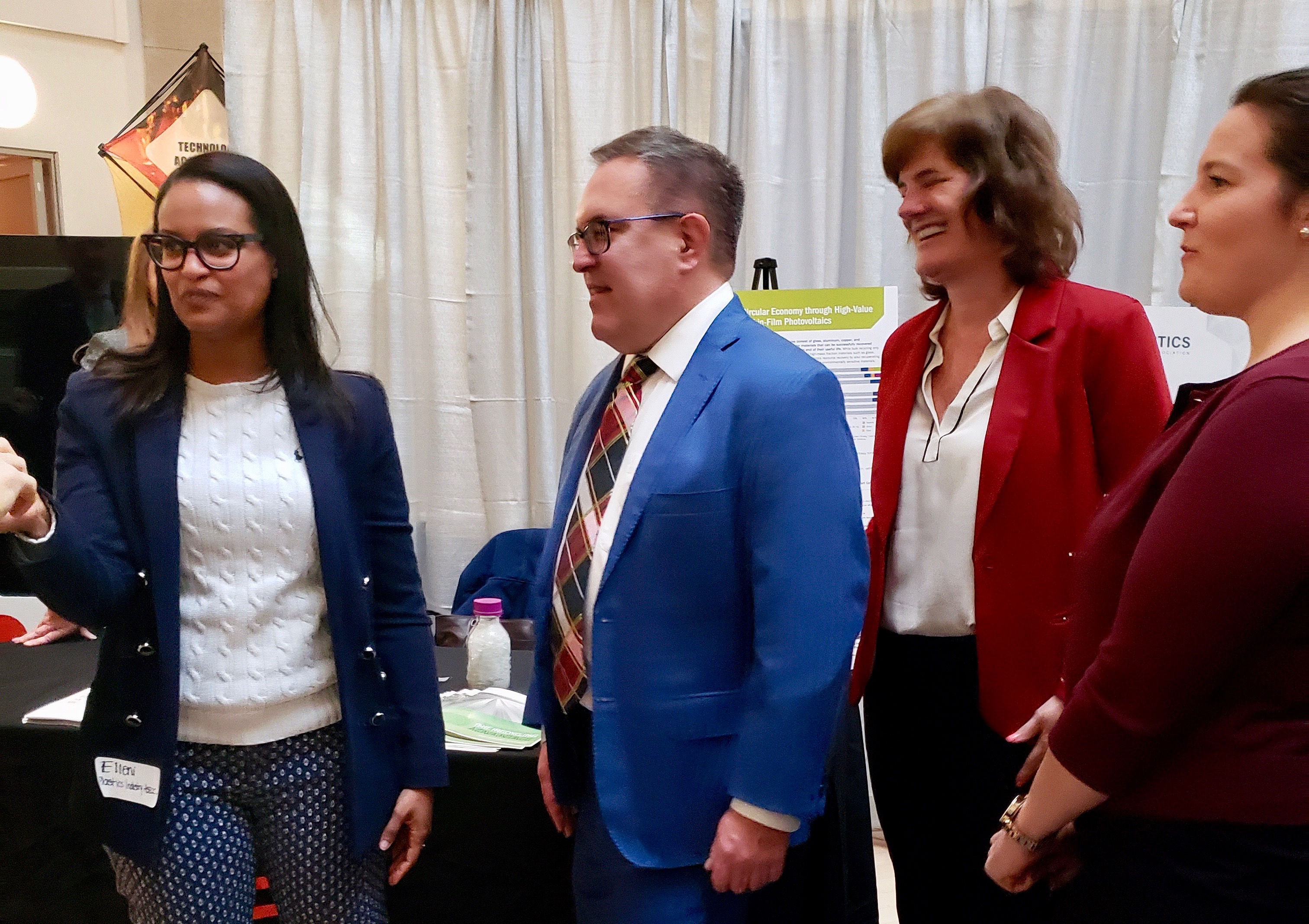 Action items
Underpinning the final goals is a new national framework that includes the results of four outside working groups formed in 2018 at the first America Recycles Summit. Focused respectively on education, materials management and infrastructure, markets, and measurement, the groups compiled priority action areas for recycling efforts going forward.
Only around half of U.S. households have access to curbside recycling and an estimated 60 municipalities have scaled back or cut their programs in response to market fluctuation and contamination issues. The working groups recommended synchronizing messaging around recycling and spurring market development, in addition to standardizing measurement and definitions across the sector. 
Their final proposal suggests developing a draft definition of "recycling," along with exploring the creation of tax incentives to encourage investment in recycling. The groups also advise exploring the feasibility of a national public relations campaign touting significant materials and issues within the sector, continuing to update the EPA's ReCon Tool to better reflect the environmental benefits of recycled content, and conducting both webinars and outreach, among other areas. An online "clearinghouse" of tools and resources is also under development by the U.S. Chamber of Commerce Foundation and multiple groups.
While the EPA released its own action item list to complement the tasks laid out by the working groups, stakeholders repeatedly emphasized that they see federally-backed national goals as critical to any real success.
"[There is] a crisis in terms of public confidence in recycling," said Robin Wiener, president of the Institute of Scrap Recycling Industries (ISRI). Wiener argued that a "federal voice can put that to bed," especially through education and outreach. "Part of getting people to have confidence in the system is telling them what the system does," she said.
Other speakers also emphasized education, not only in an effort to decrease contamination problems, but also to bolster markets for recycled products. "If companies want to get more product, we need national communication about this," said David Biderman, executive director and CEO of the Solid Waste Association of North America (SWANA). 
Biderman, who said SWANA intends to disseminate the framework to its local chapters, pointed to national food waste reduction goals as an example of what could be possible for recycling — encouraging investment and bolstering incentives for action.
Bridget Croke of Closed Loop Partners also highlighted urgency. "We have a couple of years to show big progress," she said, arguing that "now is the time" for action. "I think we really need a vision of what we're building towards."
Policy pressures
Even as they pushed for federal action, including the potential for some policy changes, panelists were generally careful to avoid embracing regulation.
The private sector has increasingly eyed sustainability efforts and investments in recycling education and outreach, but generally on its own terms. This trend is exemplified by the growing star of organizations like The Recycling Partnership, as well as efforts including the Every Bottle Back initiative. But those same industry players have shied away from embracing major legislation like a draft national plastics proposal that would codify extended producer responsibility into law, along with a national container deposit system.
Instead, many have backed the "Save Our Seas 2.0" bill, which is supported by the Grocery Manufacturers Association (GMA)​, or the RECOVER Act, which SWANA is backing.
The Trump administration is also unlikely to seek any regulatory actions. Wheeler told Waste Dive at the agency's recycling innovation fair that the EPA is looking to support the existing national open market system rather than exercise any new federal authority.
Assistant Administrator Wright said after the event that his agency lacks considerable regulatory authority over recycling and those decisions lie with state governments. But he also noted that major action from Congress could force the agency's hand.
"If Congress directs us to regulate it, we would certainly enforce the law," Wright said, while caveating that he did not "have any kind of immediate sense that they're going to direct that."
Some in the industry feel that congressional action could prove beneficial. "There may be room for policy here," Biderman suggested during the panel, noting "a lot of legislation on the Hill" that might address some of the problems facing recycling.
Environmental organizations, meanwhile, are skeptical of a non-regulatory approach. Many panned the agency's America Recycles Day events as a cover for plastics companies as they face growing backlash over marine debris and studies linking their products to health problems. U.S. PIRG also blasted the EPA's national framework in a statement, arguing that the agency "sidesteps specific commitments to encourage reduction, reuse or redesign." 
Still, EPA officials maintain the market can handle these fluctuations and that regulations aren't needed.
"Some of these things aren't going to just work overnight," said Wright, arguing that information-sharing will bolster recycling and that ongoing market turbulence is not a reflection on end chances of success. 
The tension between environmental and economic arguments played out repeatedly during the event, with administration officials emphasizing they can work together. "You can achieve environmental benefits and still manage economic benefits," said Peter Lopez, who heads the EPA's Region 2.
Helen Lowman, president of Keep America Beautiful, similarly presented the divide as a non-issue. "Together we can lead the planet in responsible consumerism and manage waste for not just one more generation, but for many generations to come," she said. 
But Judy Sheahan, assistant executive director for the U.S. Conference of Mayors, spoke to the weight environmental issues now play for municipalities. She​ noted that her members are in the midst of working to meet a number of climate and environmental goals that include making progress on recycling. "They very much care about [those issues]," she said, indicating that urban areas are increasingly facing a public that is prioritizing looming threats like climate change and wants action. 
Whether the federal government imposes regulations or not, industry officials are still largely in agreement over the hurdles facing the recycling sector. Citing research conducted by her organization, Meghan Stasz, vice president of packaging and sustainability for GMA, asserted that "Americans say doing their taxes is easier than recycling." 
And cost also remains an issue. "​Cities only have so much money to educate their consumers," said Sheahan. 
Biderman of SWANA noted that "recycling isn't free" and that the United States may need to change how it sees the process. "Recycling costs money," he said. "We sort of trained some people that recycling is free and it's not."​
To stabilize and grow recycling across the country, Sheahan​ indicated that local governments will need considerable support at every level, ranging from policy to financing. 
"[We] need all hands on deck," she said. "It's not as dire as everyone is predicting, but it's hard work."
Additional reporting by Cole Rosengren.