"Consumers are doing their homework on companies before they choose to do business with them," said Nielsen Project Development Director Erica Parker at the recent Global Sustainability Summit in New Orleans. Parker and colleague, Elizabeth Kiniorski, presented on the importance of sustainable goods in a session titled "The Sustainability Imperative — Insights on Consumer Expectations and Behaviors." Their main message: Consumers want goods that are sustainable, and companies need to meet those needs in order to stay competitive.
As much of the waste industry works to advocate for sustainable products that cut down on waste, reduce carbon footprints and promote a circular economy, businesses across all other industries — especially food and retail — must do their part to manufacture such goods. And, as Parker mentions, this is driven not only by environmental need but also consumer demand.
Waste Dive breaks down the four main reasons why companies should focus on sustainability, as presented by Nielsen:
There is a global demand for sustainable goods
"In [many global] markets, consumers are facing challenges on a day-to-day basis and a lack of commitment to sustainability can impact their daily lives," said Parker, who noted that there is a clear demand around the world for goods that are eco-conscious. While the demand in North America is present, it pales in comparison to areas of Latin America, where the opportunity to present sustainable goods is flourishing.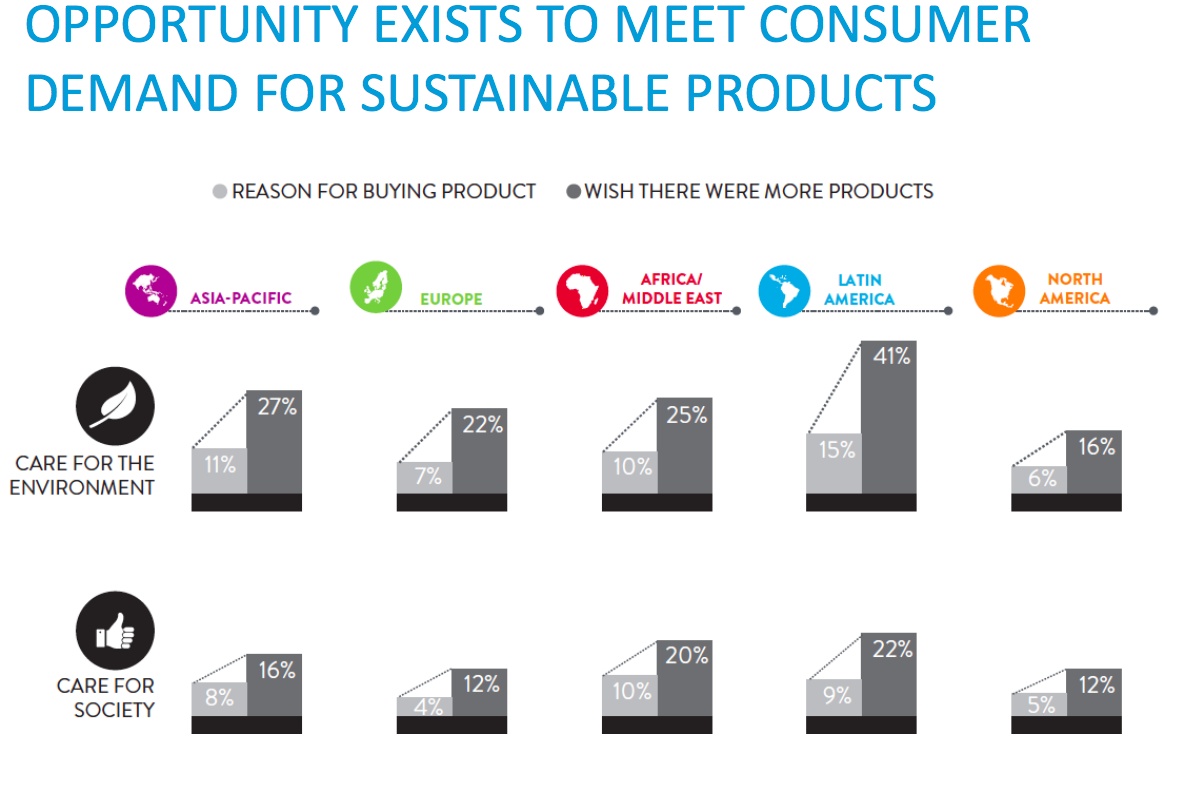 In a March interview with Waste Dive, International Solid Waste Association (ISWA) President David Newman noted the importance of a global commitment to sustainability by stating, "We live in a globalized community. Everything we do has a reflex upon everybody else, and everything that happens elsewhere has a reflex upon us." As companies increase their focuses on sustainable goods, they should keep in mind the impact that such goods can have on both developed and developing parts of the world, and leverage such demand to their advantage.
Consumers are willing to pay more for something sustainable
In a study of 30,000 consumers across 60 countries, Nielsen found that nearly 2/3 of consumers globally are willing to pay more for sustainable goods — and that is on the rise.
"Consumers are really seeking to purchase products that help them stay true to their values and what they consider matters most to them," said Parker.
 
For companies that have resisted manufacturing goods that are more sustainable due ot the cost implications, this research is crucial. While an investment on sustainability may be more than companies usually put into their product manufacturing, the ROI on such manufacturing will be beneficial. 
Sustainable products lead to an increase in sales
Through a study of 1,300 brands across 13 categories and 13 markets, Nielsen calculated this ROI to find that most companies focusing on sustainable products see a 4% increase in their overall sales. 
"We looked at year-over-year (YOY) change in sales," said Parker, who explained that those companies "with a dedication to sustainability" saw this increase. Companies that didn't focus on highlighting their sustainability efforts averaged a less than 1% increase in sales. 
When explaining how a company can demonstrate their focus on sustainability, Parker explained it can be done through, "A claim on the package ... some sort of marketing efforts through advertising that demonstrated that commitment, or a combination of both."
Loyalty to sustainability can be easily represented through marketing
Once a company makes a commitment to selling sustainable products, marketing such products is crucial to ensuring the public is aware. Of the 1,300 brands Nielsen studied, they found a "marketing only" tactic was the most prominent. While the bar chart on the right shows that a "claim only" approach did lead to higher growth, that data was among a smaller pool of brands — only 2%.