Dive Brief:
The Solid Waste Association of North America (SWANA) released data today that states 98 fatalities related to MSW collection, processing and disposal occurred in the U.S. between July 1, 2015 and June 30, 2016. 
38 of the deaths were of solid waste employees on the job — a majority of which happened during collection — while 60 of the deaths were third-party members of the general public who were involved in accidents with solid waste trucks or equipment.
SWANA reports that April 2016 saw the most fatalities, with eight third-party and five worker deaths. Since the data collection was completed on June 30, an additional 28 MSW-related fatalities have been recorded.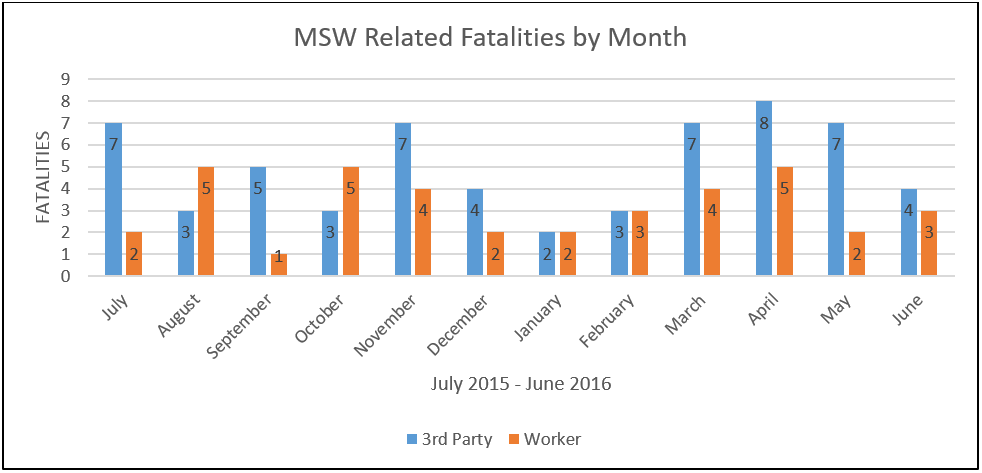 Dive Insight:
SWANA has hammered the concept of safety into member training initiatives, conference discussions and even a Safety Ambassador program in an effort to reduce the alarming fatality rate industrywide. However, one death is one too many — and the industry has a way to go to bring these numbers down. 
"The sobering statistics continue to shock our senses regarding the number of our peers that don't make it home to their families every year," said SWANA Safety Committee Chair Tom Parker of CH2M in a press statement. "We must and can do better to provide training and programs to help all industry sectors. Our committee will work harder in developing programs to make our industry safer."
The most recent report from the Bureau of Labor Statistics listed refuse and recyclable material collection as the occupation with the fifth highest fatality rate, with data of 27 refuse worker fatalities in 2014. While this was a drop from 33 worker fatalities in 2013, the fatality rate increased to 35.8% from 33%.
SWANA notes that the 2015 Census of Fatal Occupational Injuries (CFOI) is scheduled to be released on Dec. 16. And while it may differ slightly from SWANA's report, the fact of the matter is that waste industry deaths are all too common, and more public and private companies must buy-in to the idea of increased safety programming in order to see an improvement.