Puerto Rico is facing a waste crisis. Unlined landfills across the island are overflowing with uncovered waste, sending foul odors into homes, contaminating drinking water, and attracting rodents and other pests.
While multiple U.S. island territories lack comprehensive strategies to divert any of this waste, they also hold more opportunity for recycling with the right planning and investment.
Recycling on islands is challenging due to their geographic isolation from end markets and lack of sufficient quantities to support processing investments. Industry professionals indicate shipping off island is expensive, with increasingly low profits, and say recycling activity is limited. Instead, waste often piles up in noncompliant landfills that experts describe as an approaching environmental catastrophe​.
Currently, waste in Puerto Rico goes to one of 29 landfills on the island – most of which are over capacity and noncompliant under RCRA Subtitle D, or otherwise referred to as "open dumps." The U.S. EPA has legal agreements to close 12 of them.
Randy Jensen, president and CEO of EC Waste, says these noncompliant landfills have the potential to attract vectors and vermin that infiltrate nearby neighborhoods and emit methane gas into the atmosphere. According to Jensen, they also seep leachate into the groundwater and don't undergo any inspection process to verify what waste streams are going into the dumps. 
While Puerto Rico requires recycling by law, many of the island's cash-strapped municipalities don't enforce these laws, said Zaidi Guzmán of IFCO Recycling, the main operator of recycling facilities on the island. Guzmán estimates that about 48 of Puerto Rico's 78 municipalities have some form of recycling, although the systems are not standardized. The Puerto Rico Recycling Partnership (PPRP), an initiative created by the U.S. EPA and the government of Puerto Rico, estimates that approximately 12-14% of waste is recycled. 
Mark Lichtenstein, the former CEO and president of the National Recycling Coalition, has worked extensively in Puerto Rico and the U.S. Virgin Islands, particularly after Hurricanes Irma and Maria ravaged the islands. 
"I've been working in this field since the late '80s, and some of the best recycling facilities I've seen are in Puerto Rico," said Lichtenstein, who also serves as chief of staff and chief sustainability officer for the State University of New York's College of Environmental Science and Forestry. But these facilities exist in "pockets" and not in a "commonwealth-wide, real aggressive recycling program."
The issue is that tipping fees for landfills are low, and recycling requires expensive investment in infrastructure and can sometimes bring in fewer returns. For example, the ASCE report states the average collection fee for open dumps and compliant landfills ranges averages $19 and $28 per ton, respectively. This is well below the national average of approximately $55 per ton in 2019.
Still, experts say the upfront costs of recycling mask the long-term public health and the environmental costs of landfilling, which are often hard to quantify. Closing the island's open dump sites, according to the report, will also cost higher than usual.
Also, said Lichtenstein, the low cost of landfilling doesn't take into account the odors that prevent residents — who often don't have air conditioning — from opening their windows in the Caribbean heat. It also doesn't factor in contributions to climate change, health effects and the long-term costs of monitoring the landfills when they eventually close – not to mention the costs of delayed closure.
Moreover, Lichtenstein and others say, these externalities often affect residents in poorer neighborhoods who lack political power. 
"A tipping fee is not adequately representing the true cost of disposal. Whereas on the recycling side —the trucks, the MRFs, everything — you do have a complete accurate cost," said Lichtenstein. "So now you're comparing one option where you have good data on the cost and revenue, with another option where you have very poor data on the complete costs, but people don't consider that. It's 'oh, recycling costs too much.'"
A study published by the EPA in March found the island's landfills would run out of space in the next two to four years without either a major change in consumption habits or the creation, or identification of, new recycling markets. The accumulation of debris from the 2017 storms also knocked a year off the landfills' lifespans. 
"What changes if we continue to use noncompliant dumpsites is what I'm going to call the slow death of the island, from an environmental perspective," said Jensen, who estimates the island's compliant landfills could last another 40-60 years. "Our water tables are going to be non-drinkable. Our flora and fauna are all going to be to some degree contaminated. The island is being killed by the use of noncompliant dumps."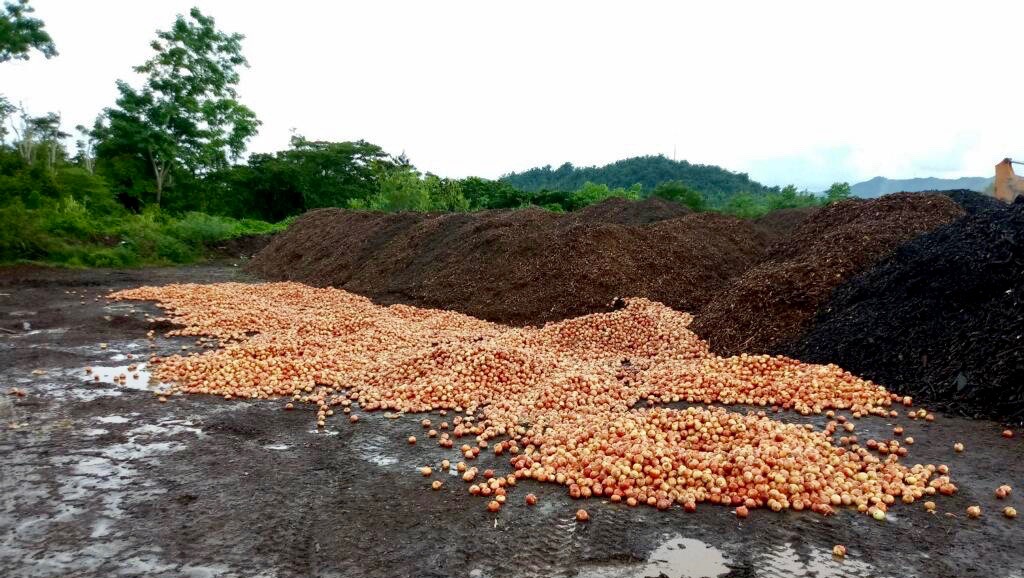 Organic opportunities
Stephanie Anderson from the PRRP estimates that 35% percent of the island's waste is organic, and could be diverted if composting or other processing options were were expanded. Such an effort would also help reduce methane emissions.
Composting company Trito Agro-Industrial Services currently collects food scraps from major companies across the island to create compost using a fermentation process, explained COO Jose Miguel Pacheco. They then grow produce using the compost that they sell back to the companies in a "closed-loop system." 
They call this process "recycloponics" and while they have major clients such as Microsoft, Eli Lilly and Amgen, Pacheco said they process less than 1% of all organic waste on the island — about 10 tons a month. 
In islands recovering from devastating hurricanes, long-term sustainable waste management programs often fall low on the political agenda, says Lichtenstein. But PPRP officials believe there's more interest to adopt new recycling programs or improve existing ones. 
USVI on the edge
While the U.S. Virgin Island's population of 104,000 falls short of Puerto Rico's nearly 3 million residents, they face many similar issues.
The territory currently has two landfills that have both been out of compliance with federal regulations for years, as well as many unregulated dump sites. The Federal Aviation Administration has long demanded the closure of the landfill in St. Croix because the birds that it attracts pose a danger to planes at the adjacent airport.  
The slopes are too steep at the Bovoni Landfill in St. Thomas,  creating the potential for waste to roll down the sides, said Lichteinstein. In addition to generating methane emissions and a putrid smell from hydrogen sulfide, the landfill also isn't covered properly – causing materials to blow around in close proximity to nearby residents. 
Both the Bovoni Landfill and the Anguilla Landfill on St. Croix are under judicial consent decrees, which are being directly overseen by a federal judge. Anguilla must close in June 2020, and Bovoni in June 2021, said a EPA spokesperson via email. 
Yet the EPA anticipates that one or both of the landfills will not comply with the closure schedule due to the lack of any replacement disposal sites. The agency is currently in the process of approving the territory's municipal solid waste landfill permit program, which would allow the government to expand existing landfills and construct new ones.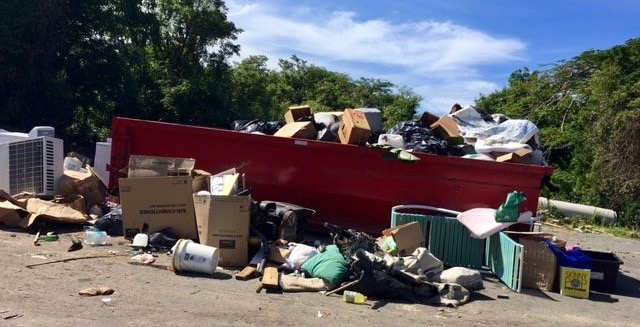 Kelly Lawson, executive director of local nonprofit Island Green, is concerned that such construction would take more time than they have as the landfills approach or exceed capacity. 
The Virgin Islands Waste Management Authority does not operate any recycling programs, although there are a few initiatives run by nonprofits and private businesses. Island Green runs a drop-off facility for aluminum recycling staffed mainly by volunteers who compact cans using a "small, archaic crusher," said Lawson.
Since starting in 2014, they've only sent one 15-ton load (with about 450,000 crushed cans​) in May 2019. They moved the materials to IFCO in Puerto Rico thanks to a donation from a local barge company back-hauling an empty boat. 
There is no curbside residential service, so across the islands consumers bring their own waste to satellite dumpsters, often including hazardous waste and appliances indiscriminately. They often overflow with waste, attracting animals and blowing materials into nearby mangroves, said Lawson.  ​
Island Green hopes to expand to accept plastics, glass and cardboard soon. The territory's Plaza Extra grocery store chain runs a plastic recycling program that relies on volunteers and the goodwill of the owner, who runs it at a loss. Groups that work on the program include the Environmental Association of St. Thomas and St. John, Virgin Islands Conservation Society, We Grow Food, VI Green Team and Mendez Recycling.
Lawson said Island Green is also starting a brush-chipping operation to help divert vegetative waste. Currently this material is hauled to a transfer station and pushed over the backside of a ravine.
The Guam model
Some 9,000 miles away, the Pacific island territory of Guam used to face a similar situation, with the island's only dump leaching contaminants into a river that emptied into the ocean — posing an environmental health hazard and violating the Clean Water Act. 
The EPA filed a consent decree ordering the territory to close the dump, which was approved in 2004. When the territory failed to meet the order's deadlines to close the dump and build a new landfill by 2007, the court initiated a receivership and handed over operations of the Guam Solid Waste Authority to consulting firm Gershman Brickner & Bratton (GBB).
GBB improved the island's waste collection system, closed the old dump, designed and constructed the new landfill, and transformed the waste management system into an economically sustainable model. Operations were transferred back to the government of Guam in April 2019.  
The 167,000-person island now has a fully compliant Subtitle D municipal solid waste landfill that receives around 300 tons of waste a day, with a double liner system to protect any waste from leaking into the water supply and damaging the coral reefs. 
Bob Perron, president of Guam transfer station operator Mr. Rubbishman, speculates a tipping fee of $174 per ton that was instituted to pay for the landfill is a key incentive for recycling.
"That's really what provided the impetus for the change and for doing things in the proper manner," said Perron, adding that "You gotta pay one way or the other. So, you may as well pay doing the right thing, versus pay to put it in a hole in the ground.
Perron said Mr. Rubbishman also handles basic recyclables like plastics #1 and #2, bimetal aluminum and cardboard. The weight and shipping costs of glass make it untenable to recycle. A small amount is crushed and used for cover material, but most goes into the landfill. 
Like many others in the U.S., Mr. Rubbishman has seen its recycling business affected by commodity market shifts. As recently as two-and-a-half-years ago, Perron said they would receive $160 from China for cardboard. This made it possible to handle other less profitable commodities. Now, they are lucky to get $30 a ton. Occasionally they receive $40 or $45 a ton from China if the cardboard is "very, very, clean."
Usually, Perron's company is exporting to places like South Korea, Vietnam and Taiwan for around $20 to $30 a ton. At a cost of between $100 and $150 a ton to process and ship out recyclables, Perron says his business is only able to break even because of government subsidies. They've started charging a processing fee to customers to help make up the difference. 
Perron said there is one recycler who handles plastic in Guam, and the government pays him $500 a ton to ship about 25 tons a month to Taiwan. 
Despite these high costs, GBB Senior Vice President Chris Lund believes​ the desire to divert waste from the landfill is strong in Guam. 
"They value that landfill space, they only have that natural space to work with and it's being offered and people want to do it," he said. "People want to do the right thing on the island in general."
It is unclear if such a receivership system could have similar effects, or would be necessary, in the U.S. Virgin Islands and Puerto Rico. An EPA representative said the agency is working closely with partners in the Caribbean territories to develop a sustainable waste management strategy. Local news reports say that a district court judge threatened to do just this in the U.S. Virgin Islands last year, continuing to raise it as a possibility in recent months.
Eventually, Lichtenstein envisions a waste management collaboration between various Caribbean islands with Puerto Rico serving as a hub. He hopes their combined materials would be enough to create a consistent, reliable quantity to support manufacturing facilities — a potential economic boon. 
"If we can start to posit recycling as an economic development opportunity that — oh, by the way, has environmental benefits — I think you're going to get it sold a lot better," he said. "So we have to make those kind of arguments to the government and have it rise in a level of priority as an economic strategy for the island. But it's not getting the kind of policy attention that it should."
This story has been updated with more precise information from Puerto Rico and the U.S. Virgin Islands.