When Mayor Bill de Blasio announced New York's goal of sending "zero waste" to landfills by 2030, the date felt just far enough away that it might be possible. Now, some are beginning to wonder if this political promise was ever feasible in the first place.
Nearly four years later after the announcement, movement on three items considered key to success by the city's Department of Sanitation (DSNY) — expansion of curbside organics collection, conversion to single-stream recycling and a "save-as-you-throw" (SAYT) program — has stalled. 
DSNY has gained a national reputation for the success of its dual-stream recycling program, along with other specialized initiatives. But these successes may not be enough to make significant headway beyond a residential diversion rate of around 20%, according to the agency's 2018 Strategic Plan Update:
"We have taken great steps to implement these initiatives, many at a scale and scope unparalleled in the United States and in some cases the world. Today, we are collecting more recyclable metal, glass, plastic and paper then at any point in the last decade, and yet we know that in order to hit our ambitious goal, we need to do more."
Per that report, DSNY's latest goal is to boost its capture rate from 50% to 60% within the next five years. Priorities will include optimizing organics collection, focusing on low-performing districts and offering more in-building services. 
The path to achieving this 2030 target is looking increasingly complex. Industry trends are shifting away from weight-based goals, the city is preparing for a financial downturn, and price tags for many of these big ticket items are either unknown or unfavorable compared to current disposal options.
In an interview with Waste Dive, before she took a temporary leave of absence to run the city's public housing authority, DSNY Commissioner Kathryn Garcia remained optimistic, but framed the discussion as one not entirely in her control.
"New Yorkers sometimes can be a little bit cynical about big goals, but really I feel like what we're trying to do is provide all New Yorkers with the tools, because they're the ones who achieve it at the end of the day," she said last fall. "We can't achieve it by ourselves — we only deal with what they've decided to do, so we're making sure that we're putting programs in place that make it easy for them to all do the right thing."
Skipping single-stream
Switching New York's recycling system to single-stream by 2020 — one of many prescriptions in the initial "zero waste" plan — is seen as one of the largest convenience plays. Based on a Jan. 2018 presentation, DSNY anticipated it could increase citywide diversion rates by as much as 20-25%.
Yet given recent market disruptions and growing emphasis on quality, some observers had become increasingly skeptical that ditching dual-stream collection, with its lower-than-average contamination rates, was a good move. 
Garcia previously told Waste Dive she still supported single-stream despite market turmoil, but that confidence began to wane as 2018 wore on and dual-stream will remain in place for the foreseeable future.
"That is not something we've abandoned — but at the moment, we think that in order to have a financially prudent contract for city residents, we need to make sure there's an outlet for the paper," she said.
DSNY is still on the early end of a 20-year contract with Sims Municipal Recycling, which handles material through a city-owned MRF in Brooklyn and a facility of its own in New Jersey. In addition, a Pratt Industries mill on Staten Island gives more than half of the city's residential paper an automatic end market. 
This set-up has helped insulate all parties from some of the worst effects of China's scrap import restrictions — but opening up the contract still wouldn't tilt in DSNY's favor.
"These are the things that we're sort of grappling with, because we think from a policy perspective, it's the right direction to go to really drive diversion," said Garcia. "Our private sector partners aren't going to make a deal that isn't extraordinarily financially advantageous to them, and we don't want to put the city on the hook for something where the markets could change again."
Pratt Industries declined to comment on a potential single-stream switch. Tom Outerbridge, general manager of Sims Municipal Recycling, said the concept could boost capture rates in high-rise buildings with transient rental populations, but doesn't currently make sense.
"The prospect of taking advantage of what is presumably a simpler program for people to participate in — that was very appealing, but certainly the additional infrastructure build-out is challenging," said Outerbridge. "The recycling industry has such a significant problem, primarily with paper recycling, these days — it's probably the wrong thing to be launching into additional commingling of materials until that problem is solved."
Even excluding market conditions, Outerbridge said new contract language would be inevitable because current cost structures are based on different formulas for the two streams. New language likely would have also been added around potential residual rate increases, but Outerbridge was less concerned about changing quality.
"There's a qualitative improvement in the output of these newer MRFs. So we wouldn't automatically be putting our products at the bottom of the barrel just because we switched to single-stream."
Exactly what that multimillion dollar investment would have entailed, and who would have paid for it, had yet to be finalized. Due to the city's large volumes and sprawling geography, recyclables currently flow to various facilities by various modes of transportation that would be highly complex to change.
"It would honestly be the ruination of the city's recycling system," said Robert Lange, former director of DSNY's Bureau of Waste Prevention, Reuse and Recycling and now commissioner of the Solid Waste Authority in North Hempstead.
Lange worked at the department for 28 years and played an instrumental role in negotiating the Sims contract over more than four years. Based on a long-held suspicion of the city's "zero waste" goal, Lange attributes the idea to something else entirely.
"Single-stream was chosen for only one reason: because they believed that by doing that, they could have some truck savings which they could throw over to the side of food waste collection," he said. "All of this is being caused by the inefficiency of food waste."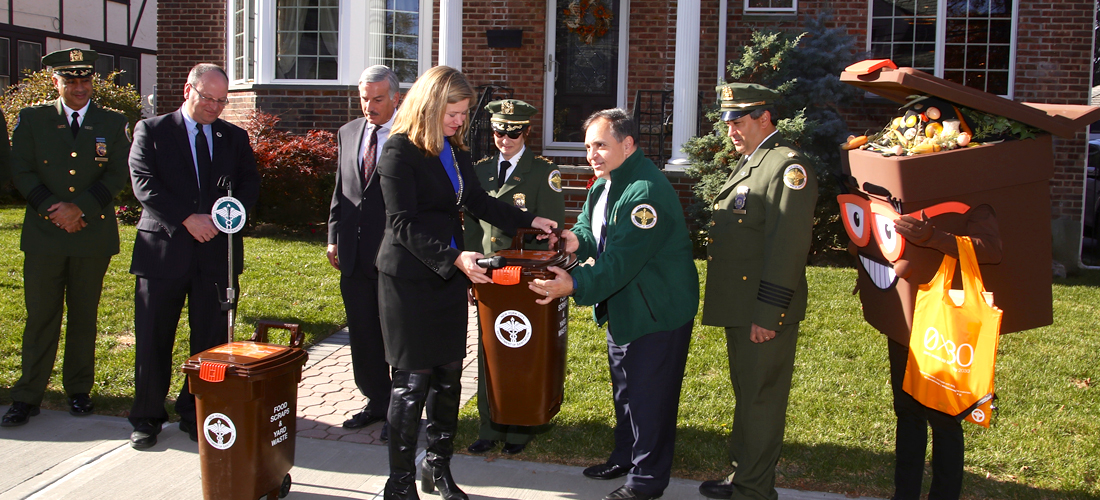 Inorganic growth
DSNY now proudly boasts the largest curbside organics collection program in the country, offering curbside or drop-off access to millions of residents — but that hit a setback last year when the city announced that further expansion plans were on hold.
Garcia disputed Lange's claim that single-stream was a play to shore up the organics program, saying any potential savings from no longer having dual-bin trucks fill up unevenly with recyclables wasn't part of the modeling.
The city's primary stated motivation has always been to tackle one of the largest components of the waste stream. So far, the challenge is that participation remains low and quality is hit-or-miss. During the current fiscal year, DSNY reported collecting on average 128 tons of organic waste per day, as compared to 8,383 tons of waste and 1,919 combined tons of recycling.
"We have had a lot of cautions or concerns about the expansion of the organics recycling program because of how costly it was. And the way that you make programs like this more cost-effective is you increase the tonnage," said Ana Champeny, director of city studies for the nonpartisan Citizens Budget Commission (CBC).
While the CBC and others have a history of supporting organics collection in concept, many also remain skeptical that its costs can add up without a major shift in participation. According to Champeny, the average DSNY waste truck is coming back full from a route with 10-12 tons, and a recycling truck may have five to six tons — but organics trucks are driving farther to get even less.
The agency has found some ways to trim costs by no longer running dual-bin trucks on organics routes (they were filling up too quickly with bulk waste), and Garcia told Waste Dive that City Hall was "pleased with the efficiencies we have made so far." 
Ever since the expansion was put on hold, proponents have been vocal in their calls for it to resume and grow.
"'Zero waste' will never be achieved without a successful curbside organics collection program," said Eric Goldstein, senior attorney and New York environment director for the Natural Resources Defense Council (NRDC). "If you're in the City Hall budget office and all you're looking at is next year's budget, you don't have that long-term lens that's necessary to advance a sustainable waste policy and launch long-term thematic reforms."
Others said that might be limited by de Blasio's "lucky" financial streak eventually running out.
"He came in with overage in tax revenues, and every year there's been more tax revenues. He just keeps expanding programs. Every other mayor before him came in, and there was a shortfall that he had to make cuts to every other agency," said Lange. "It won't last forever." 
Earlier this month, de Blasio announced he would also be asking every city agency to cut costs and didn't include any new funding for organics collection expansion in a preliminary FY20 budget. Still, advocates are pushing not only for expansion, but for a mandatory program that could be reinforced by what might be the most contentious concept of the three.
SAYT psychology
Its moniker varies across different cities — pay-as-you-throw, save-money-and-reduce-trash (SMART), save-as-you-throw (SAYT). But lately, New York hasn't referred to it much at all.
In 2015, the concept was cited as the "largest potential contribution" to hitting the "zero waste" goal. While DSNY awarded an estimated $1 million contract for the study of a SAYT system to consulting firm RRS in Jan. 2018, that contract has yet to be executed.
Many attribute this to criticism from elected officials in a 2018 Staten Island Advance article — specifically City Council Speaker Corey Johnson, who described it as a "non-starter."
Council Member Antonio Reynoso, chair of the sanitation committee, has been talking up the idea for years and stood behind its importance during a fall interview.
"We need to figure out a way to incentivize people to do the right thing," said Reynoso, maintaining that he doesn't believe the "zero waste" goal is achievable otherwise. "I don't think people are aware of how much trash affects them or how expensive it is."
Adam Freed, a former deputy director of planning and sustainability in the city, and now a principal at Bloomberg Associates, shared those sentiments. Describing waste as a "hidden and buried cost that people don't appreciate," he's noticing greater movement from multiple cities toward reconciling that expense. 
"People are paying for garbage collection, they're paying for disposal, they're bearing the cost of the waste in the city. They just don't realize it," he said. "There needs to be the paradigm shift that it's not a new cost — it's just simply putting the control and the ability to decrease the costs in the hands of the citizens."
From a fiscal standpoint, the true benefits remain unknown. The city's Independent Budget Office initially projected a SAYT system could yield annual savings of anywhere from $118 million for just one- to three-family homes, and up to $367 million if all residential buildings are included. The CBC has been similarly intrigued.
"Change is usually difficult — especially behavior change. This is a program that we thought had substantial upside if it went through," said Champeny. 
She said that political uncertainty isn't a good reason to hold off on the study, stating that "the contract amount doesn't seem outlandish" and DSNY is already spending more than $8 million on a commercial waste zone consulting contract that's arguably just as politically charged.
In November, the city's borough-based solid waste advisory boards sent a letter asking DSNY to execute the RRS contract. Referring to waste as the city's "last unmetered utility," it said the status quo "not only encourages excessive waste generation and decreased efficiency, but is inequitable and unfair." Last month, Garcia met with members and again cited political opposition as the main issue.
Fact: New Yorkers use more than 10 billion single-use carryout bags every year. You can help reduce bag waste using a free #reusable bag. Get one for free by taking the taking the #zerowastepledge online: https://t.co/0K0gzDJaun pic.twitter.com/4mCPhhiRDZ

— NYC zerowaste (@NYCzerowaste) January 18, 2019
Goals on goals
"Zero waste" has become a popular ring to grasp for — and it fit well with de Blasio's early mayoral platform — but as the years go by, it's becoming increasingly clear to some just how fleeting the 2030 target may have become. 
"Before, I knew it was going to be difficult and, to be honest, I didn't think we could do 'zero waste' by 2030 — but I knew we could get to 'zero waste,'" said Reynoso. "Now, I don't know. When you look at the timeline of what needs to get done for that to happen ... It feels like we're still pushing uphill."
One other key area that could help change that, assuming a proposed regulatory overhaul comes to pass, is commercial waste. DSNY doesn't collect the material and has little accurate data on how much of it is even getting recycled — but franchising has been described as the city's "greatest opportunity" to hit its 2030 mark.
New York could also begin counting the growing fraction of residential material it sends to Covanta — an estimated one-third and rising. While this would ostensibly run counter to the spirit of the broader movement that spurred it in the first place, recent actions are a reminder that de Blasio's 2015 plan was never a binding framework.
Last year, New York joined a C40 climate action pledge on achieving "zero waste." Goals include reducing per capita waste generation 15% by 2030, reducing disposal to both landfills and WTE at least 50% by 2030 and increasing diversion rates to at least 70%. Despite the city's original goal only mentioning landfills, Garcia said she didn't see any conflict in adopting additional targets. 
Looking elsewhere, most cities consider "zero waste" more of an ethos than a fixed plan. San Francisco, the oft-touted leader, took the C40 pledge as an opportunity to recalibrate its own missed 2020 targets.
Jack Macy, senior "zero waste" coordinator for San Francisco's Department of the Environment, said the initial target was "kind of arbitrary because we didn't really expect to get to zero" but has nonetheless "made a tremendous difference" in signaling the city's intentions. 
"The point of it was to create a sense of urgency and help drive action, and it really did," he said. "We were able to pass a lot of policies, partly with the justification that we're serious about reducing waste to disposal (landfill or incinerator) and to recover those resources, move from an unsustainable linear to a sustainable circular economy."
Macy recommended that New York stay the course, not give up on further program expansions and keep working to engage the public by making a connection to climate issues. Others view such goals as similarly motivational, but potentially unrealistic.
"Those [goals] can be good for galvanizing public support, for getting momentum behind things, and those are very important — it doesn't necessarily mean they're getting you closer to the end state you're trying to achieve," said Bloomberg's Freed.
"We don't know whether we'll get there by the designated date, but it certainly is an admirable public policy objective to shoot for," said the NRDC's Goldstein. "It's definitely moving in the right direction, but we need to pick up the pace."
The next 11 years
A big part of that, many agree, will be spurring greater engagement from the general public. If single-stream is about making recycling easier, organics about making it visceral and SAYT about codifying good behavior, that all still relies on individual actions.
Even after years of political messaging, it's still possible that none of this may be resonating with some New Yorkers. It's also possible that even if the city could get 100% buy-in, it would still be stymied by the realities of product design.
Per the city's latest waste characterization study, only 68% of the residential stream is currently divertable. That leaves construction material, textiles, low-value plastics, diapers, hygiene products and other tough items. Figuring out how to tackle that list, let alone the amount of commonly accepted packaging still being consumed at a high rate, touches on complex producer responsibility questions far beyond any city's control.
All of this came up in a Dec. 2018 council sanitation committee hearing on a bill to start organics collection at city-owned buildings that ended up encompassing "zero waste" progress in general.
"While I see that we have an initiative to take on those challenges, I can't sit here feeling comfortable that what we're doing is going to be enough to significantly get us to a place where we're closer to 'zero waste' by 2030. And I believe a big part of that is education and information not getting out to the public," said Reynoso.
Garcia explained her agency's outlook, which to date has mostly been focused on encouraging voluntary actions, and previewed plans for a new marketing contract. Still, she recognized that it may take more than trying to get people to take steps toward a voluntary goal. Unspoken was the fact that this goal might not even exist by 2030 once City Hall changes hands in a few years. 
"I think if we are going to actually meet our goals, it'll be a question of whether or not we want to take on some things that are more challenging and really going to be able to drive that — and some politically may not be the most comfortable thing to do," said Garcia.
"So in short, politics is holding you back?" asked Reynoso.
Garcia's answer, delivered with a grin, was telling.
"Isn't it always?"