Electric collection vehicles, an increasingly common sight around the world, are on track to become more prevalent in the United States over the coming year than previously reported.  
Truck manufacturers BYD and Lion Electric Company will be delivering new vehicles in multiple states, according to representatives at a recent event hosted by the Solid Waste Association of North America's (SWANA) Northern New England Chapter in Portland, Maine. High-profile pilots from Mack are also underway in at least two states this year.
The companies touted big reductions in maintenance costs, along with the ability to drive progress toward corporate and government emissions reduction targets, as key factors. Still, charging infrastructure and overall cost remain significant hurdles to overcome before the waste and recycling industry might see widespread adoption.
Despite those recognized hurdles, the session's presenters repeatedly highlighted electrification as the way of the future for fleets and passenger vehicles alike. Other sectors are further ahead in this area, but the waste industry's needs are particularly demanding according to panelists.
From coast to coast
"What we're doing here today in the heavy duty side is much more difficult than anything GM or Ford has done in the past because of all the variations," said Rocco DiRico, deputy commissioner of support services for New York's Department of Sanitation (DSNY).
"We have a really, really tall task that we're faced with," he added in reference to his city's goal of 100% fleet electrification by 2040.
That is especially true for DSNY, because its 72,000-pound collection vehicles also plow snow. This means they are heavier and must run longer than what most other industry operators need.
According to DiRico, a newly received Mack LR rear-load (said to be the first of its kind in the U.S.) performed "very well" on a recent six-hour test route. But its required two-hour recharging time is too long because trucks could be running for up to 12 hours during snowstorms and the plow's weight is also expected to reduce battery life. As a result, the truck was sent back to Mack and will return to New York with a larger battery next month for an Earth Day debut.
As part of another city goal to reduce fleet emissions 80% by 2035, DSNY is also piloting 12 units from Effenco that reduce engine use on existing trucks during idling, with 14 more on the way.
Depending on results with the Mack pilot, DiRico said he could potentially move to buy anywhere from five to 25 electric trucks as soon as the FY22 budget cycle, with the posibility to scale up further within the agency's standard purchase of 400 trucks per year if successful. DSNY operates a fleet of 6,051 vehicles, including 2,346 collection trucks and multiple other heavy duty varieties.
He already sees multiple advantages such as a quiet ride and maintenance expenses that are "little to none." After-treatment issues on current diesel engines have been considered "a nightmare," accounting for an estimated 15% of DSNY's fleet downtime.
The agency has been eyeing alternative fleet technology for many years – including a more recent test with Chinese company BYD that didn't move ahead – and has decided against pursuing other options before due to infrastructure and cost factors. Compressed natural gas (CNG), biodiesel, dimethyl ether, hydrogen and other options have all been on the table at one time or another.
CNG in particular has caught on with the U.S. waste industry in recent years, but more and more signs point to the future being electric.
The Los Angeles Bureau of Sanitation recently pledged to make its whole fleet electric by 2035, following tests with various companies. Mack previously announced an LR pilot with Republic Services in North Carolina. Recology is now running two BYD trucks for commercial collection in Seattle following a previous test in San Francisco. GreenWaste is also running a BYD Generation 1 side-loader in Palo Alto, California and could convert its entire local fleet in the coming years.
BYD is considered ahead of the market due its multi-continent presence and battery expertise. The company has been testing refuse vehicles for years, including a past pilot with Casella Waste Systems in Maine, but until recently has largely focused on the West Coast. That's now changing, with a new location in the New York City metro area.
As of last fall, BYD had five of its first generation refuse models on the road in the U.S. and was working on the second generation. The company anticipates delivering new electric refuse vehicles to multiple new states throughout the country in the coming year, but declined to confirm where.
Canada-based Lion is newer to the refuse market, but also has significant expansion plans. Senior Sales Manager Matt McGrew told Waste Dive the company's Lion8 Refuse trucks will be running in Alabama, California, Maine, New York, Washington and Montreal "by the end of 2020 or early 2021." This will include a mix of rear-loader, automated side loader and roll-off vehicles. White Plains, New York is the only publicly announced customer at this time.
One notable vehicle difference is the entire Lion8 truck body is electrified, meaning no heavy (or potentially leaky) hydraulic systems. While this feature does reduce range, Lion's trucks come with multiple batteries and charging options.​ The body is from Boivin Evolution, launched by the former owner of well-known manufacturer Labrie. Lion bills itself as an integrator, working with other companies to customize certain aspects of the vehicle for a "purpose built" truck.
While there has been some talk of taking a potential shortcut by retrofitting existing vehicles to electric, McGrew cautioned against doing that. He said true electric vehicles are ready, but will just take time for wider adoption. 
"You've got to start now," McGrew said, arguing the days of limited options are over. "That product is now here. Now it's a matter of meeting the needs of the application."
Infrastructure investments
The tone of the day was pro-electric, with multiple presenters speaking optimistically about its potential in a variety of industries.
"Twenty years from now it's going to be a very different landscape with respect to electric transportation," said Kyle Burak, director of energy storage at BYD.
Yet Burak and others recognized that some factors outside of their control could hinder that growth. Burak said he had seen scenarios where a truck was delivered within five months, but it took much longer for customers and utility companies to get the necessary charging infrastructure in place.
"The truck is going to show up and it's going to stay parked for another six months and that's not good for anybody," he said.
Lion echoed that concern, saying the company now waits to deliver vehicles if customers don't have the capability to charge them.
"Make sure that the energy companies are involved early in the conversation," said Gary Lalonde, Lion's director of sales, who suggested the possibility for simpler options like adding a utility pole or substation versus running cables underground in some cases. Otherwise, he said, "it becomes a really nice paperweight that cost you a lot of money." 
For example, DSNY anticipates needing 480 volt charging capabilities and that currently only exists at a few of its 80 garages.
"The truck will probably get to where it needs to be, but then the infrastructure is going to pose a problem," said DiRico, who estimated it could potentially be a $100 million proposition to upgrade all facilities. Following a decision not to pursue CNG due to logistical factors, ​DiRico said "similar infrastructure issues exist with the electric [alternative] because of the power."
While charging infrastructure may present a challenge for many service providers, some are uniquely well-positioned to deal with it. Portland's ecomaine, a nonprofit organization made up of member communities, already has access to 480 volt charging capabilities at its incinerator.
"We have a fairly unique application in that not only do we have a demand for energy, through the fuel for our trucks, but we are also an energy supplier," said CEO Kevin Roche, whose team helped organize the SWANA event.
Factoring in the fuel savings for regular two-mile trips delivering ash to ecomaine's landfill, along with the occasional collection of roll-off containers, Roche estimates ecomaine could see the value of its energy output increase from 3 cents per kilowatt-hour to 18 cents.
"This is just a small application; in our case, we're looking at two trucks, but as you look at this application for larger and larger fleets those dollars begin to increase dramatically," he said. In the future, member communities could possibly even encourage contracted haulers to use electric trucks that charge at ecomaine's site.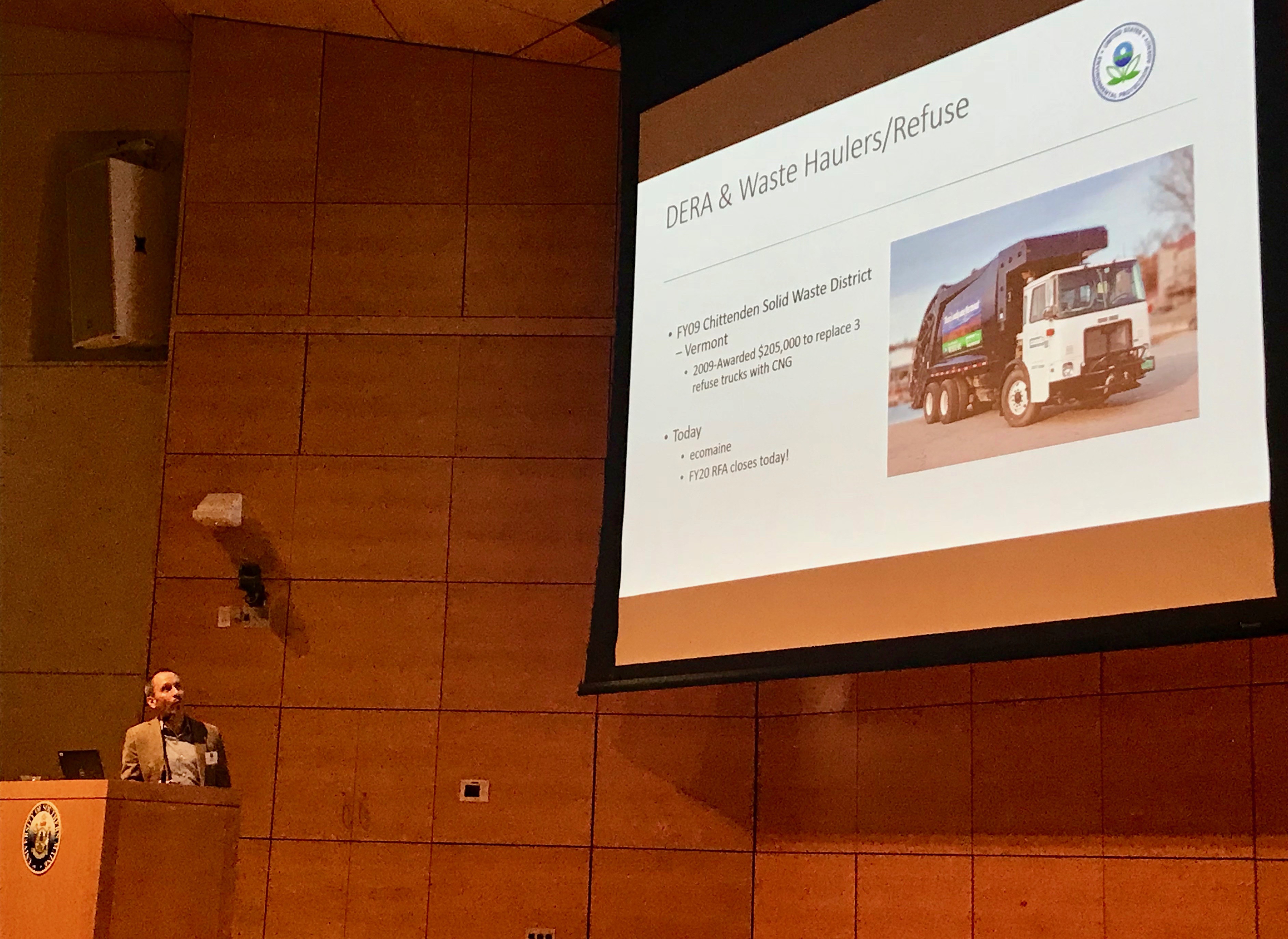 Funding questions
Even without factoring in charging infrastructure needs, all involved recognize the current slate of electric refuse vehicles is more expensive than their diesel or CNG counterparts. Grant funding and subsidies will be a big part of making progress in the near-term.
For ecomaine, factoring in all of the components and estimated fuel costs for two trucks, going for electric only becomes competitive with a potential $529,000 grant. Otherwise it would cost nearly double the projected $576,000 expense for two diesel trucks. "That's basically what made it a viable project for us," said Roche. Following the event, ecomaine announced it would be purchasing these trucks from Lion.
The funding ecomaine will receive is a combined grant from the U.S. EPA, via funding from the Diesel Emissions Reduction Act (DERA), and Maine's Department of Environmental Protection. Gary Rennie, an environmental scientist from the U.S. EPA's Region 1, ​noted DERA funds can't be awarded to private companies directly, but there are ways for them to team up with state or local agencies. For example, a Vermont solid waste district that contracts with Casella received $205,000 to help buy three CNG trucks in 2009.
"I think there's a great opportunity to tackle this sector," said Rennie, outlining how the DERA funds are geared toward addressing conditions in environmental justice areas where the industry may be operating. "These refuse trucks are traveling through any and all communities, children are exposed to those emissions."
DSNY anticipates applying for funding through the Congestion Mitigation and Air Quality Improvement Program – a common source for city projects – which covers 80% of the cost delta for new vehicles. DiRico roughly estimated each new truck may cost anywhere from $500,000 to $600,000, versus the current cost of around $300,000 for diesel trucks, but he also foresees significant maintenance savings.
Lion's representatives have found maintenance costs can be reduced by at least 60% over diesel —​ a number that could actually be as high as 75% to 80% since expensive maintenance needs often arise later in a vehicle's lifespan and their electric trucks haven't been on the road that long yet. ​
Still, both Lion and BYD recognized cost remains a significant factor and they're well-versed in the limitations of current funding options. Among other things, the Volkswagen emissions settlement fund is starting to wind down and other new sources have yet to fully emerge. "We need to find a sustainable source for that," said BYD's Burak.
As more service providers look to make this move, they'll also need to consider factors such as battery lifespans and range capabilities in varying climates, adding noise generators to alert the public and training drivers on how to maximize regenerative braking systems.
Still, while CNG isn't likely going to be supplanted as the alternative fuel source of choice for many in the industry just yet, and the status quo of diesel remains cheap, electric vehicles are clearly generating more interest within the waste industry heading into the new decade.
"I don't think anything is more on the cutting edge than the electrification of fleets," said Roche.