By 2023, at least 10 satellites run by nongovernmental organizations will be swiveling around the world taking pictures of methane, a potent greenhouse gas, leaking out of landfills. 
These devices, several of which have already launched, are some of the first incarnations of a long-standing wish in the waste industry: to directly measure landfill emissions rather than estimate them with models. The timing couldn't be better, as efforts to mitigate climate change have increasingly focused on reducing methane as one of the best ways to take fast action on the crisis.
For now, regulations that require certain reports to use other estimation models mean the technology has limited uses. It serves as a kind of backup check for facilities, and maybe as a method to gather methane emissions data for less formal sustainability reports. But increasing investments in this technology and attention from companies could make remote assessments larger factors in how facilities track their contributions to climate change — assuming regulators, scientists and companies agree on how to conduct and interpret every flyby.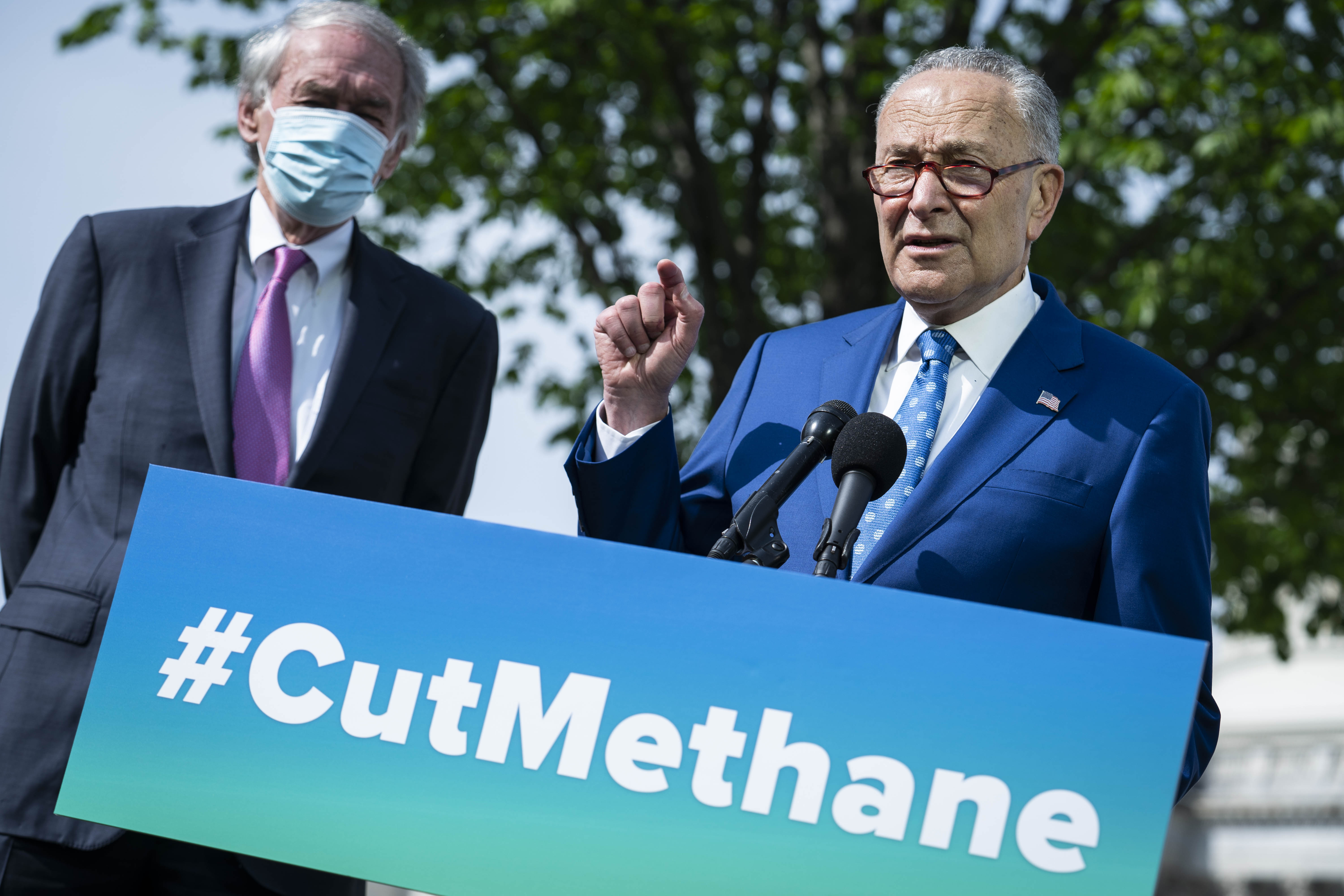 Methane in the spotlight
Methane has received more attention than carbon dioxide recently in conversations about how to reign in global warming. The most recent Intergovernmental Panel on Climate Change (IPCC) report was the first from the organization that named methane mitigation as a strong option for short-term and long-term climate change control. Though it starts to fade rapidly in the atmosphere after about a decade, the gas is about 80 times more powerful of a warming agent than carbon dioxide in the first 20 years it's around. Cutting back on how much methane is emitted is considered one the best strategies for reducing warming the fastest. 
Soon after the IPCC report, the European Union and the United States announced a program in which nations would pledge to reduce methane emissions by 30% by 2030. About 100 countries have signed the pledge, according to President Joe Biden, speaking at the UN Climate Change Conference (COP26) earlier this week. While the Biden administration's climate strategy places more emphasis on controlling methane from oil and gas operations, it also calls out landfills as a priority area, and it took steps to regulate waste-related methane earlier this year. Pledging nations also agreed to "[move] towards using best available inventory methodologies to quantify methane emissions" — a process the solid waste industry is intimately familiar with.
The U.S. EPA estimates that municipal landfills are the third-largest source of human-made methane in the country. That's why federal and state laws require hundreds of individual facilities to report annual greenhouse gas emissions. Most operators follow protocols called first-order decay models, which estimate emissions based on factors such as what kind of waste is in the landfill and what the cover is like.
While EPA officials and some independent researchers say these assessment measures are grossly underestimating landfill emissions, many facility operators disagree. Direct measurements, the landfill operators say, could solve the discrepancy. 
"We are interested in pursuing more accurate measurement systems and believe that our landfills are emitting less methane than the current methodology reports," said Tara Hemmer, senior vice president and chief sustainability officer at Waste Management, in a statement.
The company has participated in research projects to directly measure landfill emissions since at least 2007. In 2019, it started a project examining aerial and satellite-mounted methane detection equipment. Waste Management intends to "develop more accurate methods for determining landfill emissions" by 2025. 
Before Waste Management announced its own aerial measurement plans, NASA's Jet Propulsion Laboratory (JPL) was working with the California Air Resource Board (CARB) and several academic institutions to run their own flyover methane assessments in California from 2016 to 2018. While Waste Management and other landfill operators think traditional calculations overestimate emissions, the JPL-led study found otherwise. The project concluded that 41% of the largest methane point sources in the state came from landfills, which had emissions levels higher than the CARB first-order decay models were estimating.
JPL-led detection work has expanded internationally, and other NGOs developing remote methane sensing technology are creating or plotting other global mapping projects, too. Some are reluctant to say how the assessments will play out or if the measurements will say whether modeling systems over- or underestimated emissions. 
"I don't want to say we're settling a debate," said Daniel Cusworth, a project scientist with Carbon Mapper, a nonprofit launching satellites to measure methane with a system that has roots in JPL research.
Satellite-based detection technologies will best perceive point source emissions and will struggle to capture the slow, gradual methane emitting from all over a landfill that bottom-up calculations account for, he thinks. However, "there's a monitoring and quantification gap that exists" when it comes to understanding how much methane landfills produce, Cusworth said. The goal is to fill in what's missing. 
Aerial view
The airplanes crisscrossing California to detect methane with the help of JPL relied on a device called an imaging spectrometer to collect emissions readings. The technology, an increasingly popular option for organizations developing aerial methane detectors, essentially captures a photo of methane concentrations. 
Spectrometers capture the image by exploiting the way sunlight reflects back into the atmosphere after it hits Earth. How wavelengths return depends on what materials are in the way to absorb them, like plant matter and water vapor. Different materials take in different wavelengths, and methane absorbs its own specific range. 
When a methane-sensing spectrometer sails over a landfill, the device records how the wavelength associated with that greenhouse gas was altered on its return trip through the atmosphere. 
GHGSat is one of the first companies taking these photographs for hire. The Canadian company offers aerial methane assessments and collects data that customers, including landfill operators, can license. 
The highest resolution methane measurement GHGSat offers is a spectrometer aboard an airplane, said Brody Wight, the company's energy, landfills and mining sales director. A flyover only scans a 500-meter-wide swath of land, so flights often zigzag to cover a whole property, making this option more expensive and time-consuming, Wight said. Drones are also not considered the ideal option for landfill applications due to cost, time and technical factors.
A more affordable route the company offers is the GHGSat satellites. With two in orbit for commercial use and eight more intended to be circulating by 2022, the process of collecting methane data is more straightforward: A customer provides coordinates, and the next time the device cruises by, the spectrometer aims and collects an image. A company can request that the device gather its 12-kilometer by 12-kilometer snapshot of data up to once a week, with more frequent data collection likely available once more satellites are operating.
How frequently clients request a flyover is up to them, as is what they do with the data so long as it's used for internal purposes, Wight said. For example, maybe operators have construction going on a site and want to check in on it, or they think equipment might not be functioning properly and want to be sure emissions are still as expected.
GHGSat provides a color-coded map of methane concentrations across the landscape and an estimate of how many kilograms of methane are released per hour. The estimate extrapolates based on the glimpse of data it collects using a method published in peer-reviewed papers, Wight said. Any organization can purchase the information. "We don't make any secret that the data is available for purchase by regulators as well," Wight said. 
Carbon Mapper takes a different approach. If everything goes according to plan for the nonprofit, it will make all its methane readings publicly available and as easy to read as scrolling around a global map, said Cusworth. By clicking on a facility — anything from an oil and gas extraction site to a landfill — a user will be able to see data Carbon Mapper has for the site, like gas plume images and calculated methane emissions rate.  
Eventually, Carbon Mapper, which is funded by donations like the $25 million that Bloomberg Philanthropies recently contributed, will rely on satellites to get its data. The first two are set to launch in 2023 with more in orbit by 2025, collecting data at each location at least once a week. The devices will be the first satellites picking up on point source leaks that are putting out as small a rate of methane as 100 kilograms per hour.
As data comes in, Carbon Mapper will collect and post information on all the facilities the initiative considers to be major methane emitters. How many mapped locations might be landfills "varies dramatically by region," Cusworth said. For satellite-based readings, sites emitting about 100 kilograms per hour of methane qualify; for aerial measurements, point sources at or above 10 kilograms per hour will count.
Next steps
For remote sensing technology to take a larger role in methane reporting, organizations will have to offer some degree of transparency, experts say. Spectrometers flying past a landfill capture only an image-worth of emission data. But wind, temperature, atmospheric pressure and time of year are all examples of conditions that shift how much of the gas a landfill might release, or appear to be releasing, at a given moment. 
"When you start thinking about truly wrapping your head around how we understand what that variability is, that's not a small undertaking," said Bryan Staley, the president and CEO of the Environmental Research & Education Foundation, a waste industry-backed research group that has led several investigations into remote methane sensing.
Converting flyby measurements to hourly emission rate estimates requires models that account for the ways weather impacts the reading. And if federal regulators, state regulators and technology providers are to agree that the calculations or data are correct, internal measuring processes will have to open up for others to see. As Carbon Mapper progresses, Cusworth said, the program intends to share how it validates its own data collection — with controlled gas release trials — and it will post the resulting data through portals like the prototype version available via NASA. 
Since all the information GHGSat collects is available for sale to anyone, the company tries to make customers comfortable with shared information. "If regulators are getting used to this kind of data, then that sets them up to be able to accept it later as something meaningful," Wight said.
Staley suspects that if regulators develop standards for how remote sensing should be used for methane reporting, the requirements could include details like how fine a resolution each aerial data capture has and the number of flybys factored into the final figure. 
Technology operators already differ on how they approach these issues. GHGSat, for example, doesn't tell customers how many flyovers a facility should have before the operators convert the data into an estimate of overall emissions. Carbon Mapper, on the other hand, is aiming to measure each facility at least once a week. 
Scenarios in which regulators rely on satellites and airplanes for landfill methane reports are still a long way off. 
CARB anticipates using its own emissions modeling methods for the foreseeable future, a spokesperson said. These inventory-based approaches can still improve. For example, more precise volumes for each type of organic waste that goes into individual landfills would make emission estimates more accurate. But the bottom-up inventory technique CARB requires landfills to use works similarly to EPA and international protocols, so it lets regulators compare results across methods.
Meanwhile, the number of flybys needed to build a reliable methane estimate with this technology is still considered too costly.
"It's expensive to provide airborne coverage on the necessary time scales to address questions about intermittency and persistence of detected sources," the CARB spokesperson wrote via email. "Moving the hyperspectral sensors to satellites will address some of these issues, but it will also require multiple satellites to take frequent measurements."
Some waste companies voluntarily release environmental, social and governance (ESG) impact reports, which could be one of the first ways operators put aerial methane assessments into the public sphere. Though companies are opting for increasingly standardized data in ESG reports, sometimes published at the request of investment groups, the reports have less strict criteria for how emissions are calculated. How soon the results of remote measurements end up in the reports is "the million-dollar question," Staley says.
No matter how good the satellite and airplane-based technology gets, the gear and the resulting emissions estimates can't fix whatever on the ground is leading to the methane release. Reducing the amount of greenhouse gas landfills generate is the ultimate driver behind estimation technologies, and it's still what agencies like CARB are focused on.
Improving landfill covers or gas collection equipment can play a part, with the latter option growing in popularity and profitability. But there are bigger changes possible, too. 
"The first priority for landfills continues to be avoiding landfilling materials altogether," the CARB spokesperson said, "which provides the most direct path for reducing landfill methane emissions."