Few people are as plugged in to the international waste and recycling conversation as Mathy Stanislaus.
Now a circular economy fellow at the World Resources Institute, Stanislaus previously spent nearly eight years as assistant administrator of the EPA's Office of Land and Emergency Management. During that time, he was credited with pushing the sustainable materials management approach, adopting a 50% food waste reduction goal and representing the U.S. during G7 climate talks, among other accomplishments.
Since the end of the Obama administration, Stanislaus has remained engaged in these issues for WRI and is also helping establish the new Platform for Accelerating the Circular Economy as senior policy advisor to the World Economic Forum.
Stanislaus delivered a complex and thought-provoking keynote talk at WASTECON in Nashville, Tennessee last week. Waste Dive spoke to him afterward, the first time since he left the EPA in 2016, to learn more.
The following interview has been edited for brevity and annotated for context.
WASTE DIVE: How do you feel other countries perceive our reaction to this post-China recycling change here in the U.S.?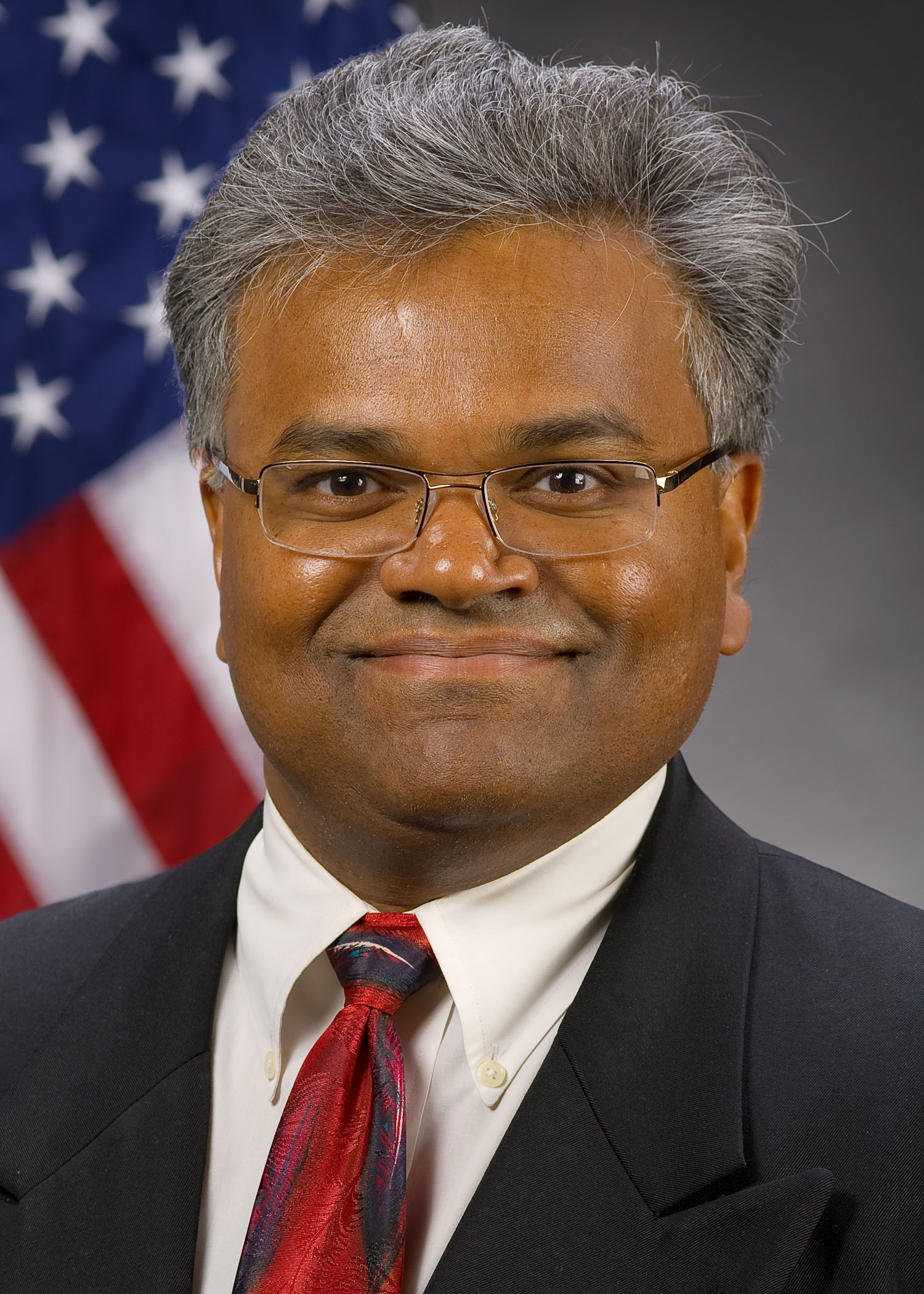 ​MATHY STANISLAUS: I think the China ban has global consequences, so the implications particularly for Europe and the U.S. are similar in the sense that the closing down has caused a back-up.
I do think that it is forcing a conversation in various countries, and various pockets around the globe, about how do you create a better system if you don't have the easy out of sending plastics? And largely it's mixed plastics which is the problem. Then you need to invest in a better system. 
Stanislaus goes on to cite that collection volumes for high-value plastics such as PET were already going down in recent years as a sign that more investment is needed in collection infrastructure. Though he also is encouraged that the "high visibility" of ocean plastic issues, as covered in a recent WRI blog post, could help drive action.
There is lots of attention, lots of advocacy, not just from advocates but from consumers. So I do think that there is a moment where we could really take a harder look at everything from municipal governments to various recycling organizations — SWANA, Northeast Recycling Council, [the Southeast Recycling Development Council] — as well as bringing some of the advocates together along with the industry. Even if you disagree on many things, can we look at the fact that it's not working?
Let's at least figure out what are the key causes of it and what are some things that we can do. The contamination is a big issue. The yield has gone down ... since the shift to single stream [by roughly 10-12%]. So if you monetize that yield number, it has a huge economic consequence. I think there is an opportunity to do some independent rigorous environmental and economic return of investment analysis around key opportunities and key actions.
I actually think that there are a lot of well-intended decisions made at the local government that are based on advocacy and not based on a rigorous hard look.
Do you put "zero waste" goals in that category?
STANISLAUS: I do. "Zero waste" goals could be achieved by burning everything to be honest. It could be achieved by lots of other ways.
This would differ from the Zero Waste International Alliance's definition, but it does describe the "zero waste to landfill" approach taken by some governments and companies.
So I always give this example, if you have $10 million municipal dollars to spend, where would you spend it? 
I'm a big believer in life-cycle based analysis, looking at energy recovery, looking at recycling and even optimizing recycling. What are the key levers of optimization? So is it labeling, is it single or dual-stream, is it better consumer education? Looking at the effectiveness of each one of those.
Looking at some investments or incentives around design and figuring out what's the most value of doing that. So that's where there's some real opportunity, and frankly for the first time in 20 years. Because there are a lot of embedded choices on recycling. Not all infrastructure, not all recycling is good.
If you spend $10 million on incentivizing the reduction of waste through design, you may have far more impact than if you try and manage recycling post-use.
Do you feel we're at any disadvantage because of the decentralized policy structure in the U.S. as compared to other countries where it's more nationally driven? Who's the arbiter on recycling? Who's the backstop to figure all this out in a comprehensive way here?
STANISLAUS: It's funny that when I engage counterparts in other parts of the globe they don't understand that largely solid waste decisions are done at a state level.
I do think that, frankly if we had a different EPA ... During my time we helped facilitate and develop a food waste plan. We brought the private sector together with the state government, local government, we looked at what is the value-add proposition, what's doable.
We developed a prioritization of a food action plan, adopted and supported by the wide array of [stakeholders]. So EPA can play a strong role in convening people, identifying best practices, creating best tools. So I think EPA could continue to play that role, whether they have the appetite to do that I'll leave it up to others to decide.
There's a long history of regional compacts in lots of other areas, in water issues in particular ... This is one of those things where you could align economic drivers with environmental outcomes. So I think that there are regional economies that, if a mixture of the public and private can identify opportunities to harmonize and create regional pacts, there's some opportunity even given the distributed nature of where we are. 
It's true, there are good models of solid waste authorities out there. Though in states where governments are more hands off on this issue it's often left to service providers to set the terms. Do you see any danger in just letting the open market approach take its course when it comes to recycling?
STANISLAUS: Yeah, it depends who's driving the market as well. The fact is that it is the rare governor that pays attention to recycling or solid waste, and it is the rare mayor who pays attention to that.
A lot of the regional compacts came from career staffers at various state and local governments. So I do think that if people understand that our well-intended rules that were designed 15 years ago are getting in the way of optimizing the recovery of materials, then let's take a modest step. I do think there's opportunities. Because once you get in the conversation about the return of investment you can then push, if you have X part in the city budget, reallocating that part.
I think there's some opportunities to look more systematically at reducing waste. Again, given that city budgets are not going to change, but [thinking about] how do you reallocate money for the most impact is where there could be an important conversation.
After your talk, an audience member asked about where waste fits into the broader Paris Agreement discussion around climate. Is it accurate to say that it still hasn't been fully accepted as a priority in those conversations?
STANISLAUS: Yeah, it has not. From the very beginning of the Paris execution of agreement and the [nationally determined commitments] there's a focus, for obvious reasons, on fuel and transportation. But then you sum it all up and you have about a 50% gap — just to reach 2 degrees, leaving us at 1.5 degrees. So when you look at what's remaining, it's materials flow and land use and both of them are intersected.
So there's growing conversation, that I think is more pronounced in Europe than in the U.S., where the nexus between materials and greenhouse gas is better recognized. So [the Organisation for Economic Co-operation and Development] has a number that says about 50% of greenhouse gases come from materials flow. A Netherlands-based group concluded that optimizing circular economy could reduce the gap towards the Paris Agreement by 50% or more.
So there's greater visibility, but I think that the next step is to operationalize that within the Paris agreement structure. That's still not happening.
Even the most well-intentioned cities still don't seem to recognize waste as a large portion of their emissions. Some are beginning to talk about consumption-based inventories, which would show a different picture. As the international conversation plays out do you think this eventually filters down to local budget discussions?
STANISLAUS: I could also argue that the folks in the room tend to be those who understand fuel and transportation ... Those climate change organizations who are in the room, and advocates, need to take a step back and say "Well, how do we fill this gap?" and then try to understand. I've made some efforts to make that case and I was falling on deaf ears in some of the environmental groups, frankly.
Earlier in the day, during a MRF Summit panel, a Procter & Gamble representative fielded many questions about extended producer responsibility. He, as well the heads of SWANA and ISRI, shied away from supporting it. The concept appears to be gaining prominence among some industry circles again — and is either trending up or down depending on whom you ask — but Stanislaus seemed to cast doubt on its effectiveness during his keynote.
People are looking for producers to take more responsibility for their products in a broad sense. If EPR isn't the way, then what is?
STANISLAUS: What are the basic fundamentals of EPR? It's fees coming from manufacturers to pay for collection, which also has this underlying theory that will influence design. So let's go back to that. Fees from manufacturers as part of a source of funding to deal with the problem is a rational idea, but let's also get away from this idea that it influences design, because it does not.
So if we remove that from the table then the issue is how do we optimize the fees? How do we get the infrastructure and an optimal system, which is less bureaucratic? How do we take advantage of new tools, data tools, to automate the system? Because the fact is people need to admit that the infrastructure is highly bureaucratic and what percentage of that fee dollar goes into the actual result? I've not done it specifically, but I think it's relatively low.
At the end of the day this is fees for collection and recycling. It should not be that complicated. I think the complication is that it's a mixed public-private kind of model, and people don't trust each other. But I do think that there are ways of dealing with verification with data that avoids a bureaucracy. But then also, at the end of the day are the fees to address the specific product, or are the fees to address the wider collection problem? 
People need to have an honest conversation ... If you're talking about a distributed system, municipalities have a certain cost for the collection recycling infrastructure. And how much of that do you want the manufacturers to bear and how much could be borne by the public? So are you talking about just that delta of their products, or are you talking about the whole delta? That's where I think there's some confusion of the issue, and sometimes probably intentional confusion.
Some hope this could be a way to make packaging companies play a bigger role in creating new end markets. A
lot of MRF operators in the recycling industry feel like they still have to be reactive to packaging industry choices. They come out with X new products, and operators go "what are we going to do with this now?"
STANISLAUS: But that goes back to the design issue, right? So again I challenge anyone to come up with a graduated fee structure that's going to influence design.
Designs change so quickly, the market changes so quickly, you're simply not going to be able to do it. If you're going to influence design, influence design. Figure out the mechanisms to influence design. Various countries have done everything from some financial inducements from tax abatement, tax credits, to some mandatory recycling goals.
So this goes to your issue, what is the incentive to reduce the total waste production? Let's look at it directly. I think for the longest time people had this belief that EPR would be that vehicle and it's not. So let's just have a direct conversation about what would be that vehicle.
What do you think people in the U.S. industry — whether they're running a county program in Tennessee or a national company — should be tuning into on

 the international stage among the many interesting circular economy projects?
STANISLAUS: So there's this effort that I'm leading in China which recognizes that the metal that you extract from used electronics simply is not of an effective quality.
How do you create a new system that actually enables the high quality recovery, so it can go back into a new electronic product? So this is an example of, and a harmonizing of, secondary materials as a viable feedstock into the base of manufacturing. That's where I think this country and the globe needs to go as one key lever of a circular economy.
It sounds simpler than it is, because you need to align the procurement and the designers within a company. You need to create the logistics of doing that. Because this is simply not the way people are doing business now. And so we have raw materials, feedstock. We have a system of managing that, procuring that, designing around it. So it does require both a systems and a cultural shift to be able to do that. 
Correction: A previous version of this article misstated a comment from Stanislaus about collection volume, not price, going down for PET in recent years.