When Rob Greenfield disposes of his Starbucks cup this week, he won't struggle with the hassle of separating the cup for recycling. In fact, he won't bother to find a garbage bin at all. Instead, Greenfield will slip the cup into a pocket of his trash coat and continue on his way.
The 30-year-old New York-based activist is on a mission to educate consumers about the amount of waste the average American creates through one eye-opening act: wearing his trash on his body, like a suit, for 30 days.
When Greenfield started his "Trash Me" mission on Sept. 19, he intended to live just like the average person, creating four-and-a-half pounds of waste per day — what the EPA touts as the average among American citizens. 
"The waste industry does a really good job of making people never have to think about how much trash they make and never be burdened by it. By putting this burden on myself, I'm hoping to get people out of the 'out of sight out of mind' idea and realize it's not that simple," he said.
Days into the experiment, Greenfield noticed he was only creating about three pounds of trash each day, and decided to stick to an ordinary lifestyle instead of pushing himself to create the statistical four-and-a-half pounds. He said he's just "going with the flow," and while he could have done the reverse and aimed for zero waste, the opportunity for a public visual would have been lost.
By the time Greenfield's mission ends this week on Oct. 19, he will be wearing about 90 pounds of trash — yet his unique undertaking will likely have a lasting impression far beyond that date.
Becoming the Big Apple's 'trash dude'
Greenfield's passion for waste reduction began when he was young because his environmentally-friendly parents taught him to recycle, save energy and be a friendly citizen of the planet. While he never intended for his environmental activism — which has also included going a year without showering or making gourmet dumpster meals — to be so waste-focused, he said he has always thought of reducing waste as a "no-brainer."
"Certain things are really hard to solve and really complicated, and waste — of course it has its challenges but the reality of waste is we know what we can do to stop wasting stuff," he explained. "It's all actions that can be taken whether it's by individuals or it's by corporations or governments, so for me it's one of these things that's just such an absolute no-brainer."
While Greenfield admits that simply moving through a congested city like New York on an average day can be "truly, truly grueling" at times, the overwhelmingly positive reaction from passing New Yorkers has proven to be worth it.
"One of the most exhausting parts [of wearing the suit] is how many people are so excited about it and they want to take photos together and ask about what it is," Greenfield said. "The number of people that have told me they've woken up to how much trash they're creating and that they're going to make changes is really reassuring … So many people have become aware."
Greenfield said there hasn't been much negative reaction. Wearing a non-smelly suit helps with public acceptance, as Greenfield replaces all food waste with dried rice to prevent odors. But outside of the occasional negative comment or two on social media, many people either give Greenfield a pat on the back for his activism or pass by without saying anything at all.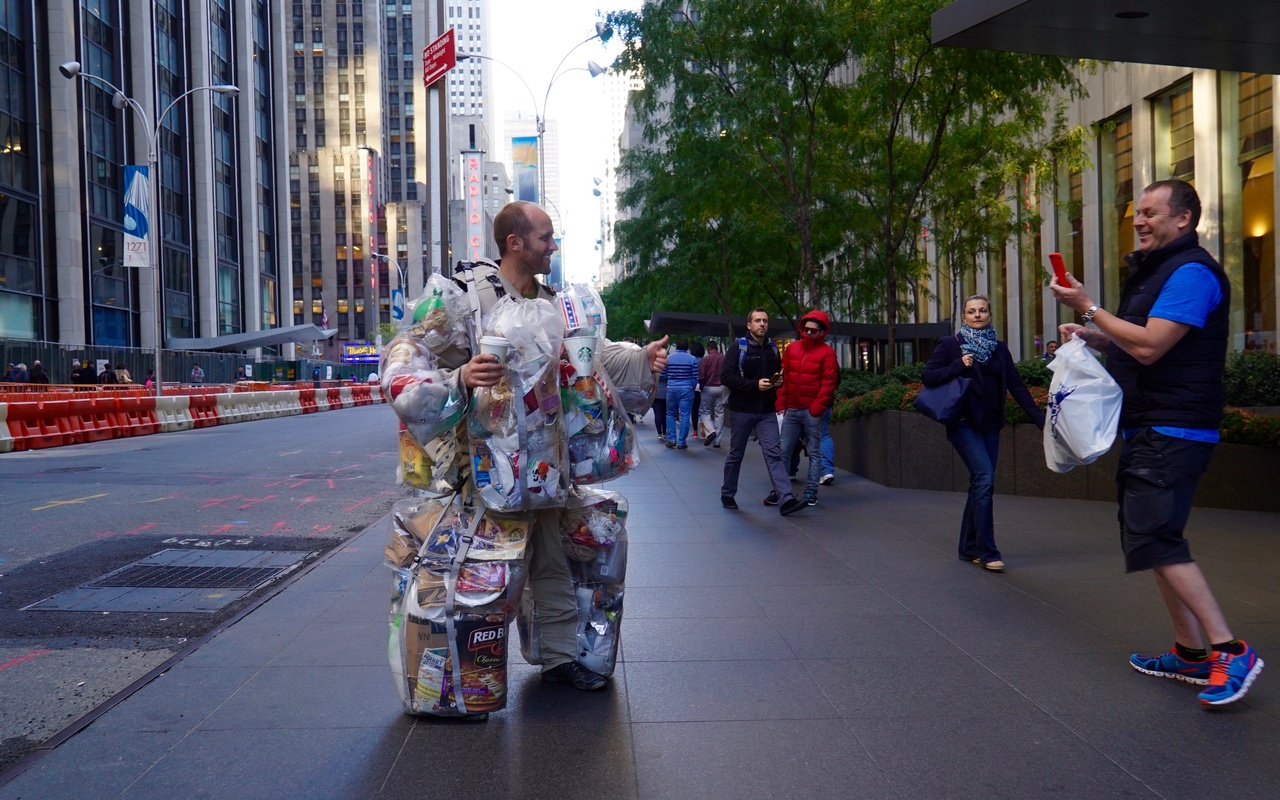 The challenges of New York's 0x30 goal
Greenfield's experiment is not only an eye-opening representation of how much individuals waste, but also of society's perceptions of waste management as a whole. While the NYC Department of Sanitation (DSNY) strives to reach a goal of zero waste-to-landfills by 2030, Greenfield's experience has left him feeling doubtful that the responsible officials will attain such a feat.
"To go zero waste by 2030, you need to change the mindset of eight million New Yorkers," Greenfield said. "I personally think it's possible as a human race to go zero waste, and I think that the barriers, we can overcome all of them. But do I think New York's goal of going zero waste by 2030 is going to happen? I really, really am hesitant to believe that and I really don't see the government doing what it takes."
Since 2013, DSNY has rolled out a comprehensive municipal composting program to nearly 300,000 households and 720 public schools. The city has also conducted Zero Waste Challenges, expanded its e-cycleNYC program and suggested a zoned collection system for private haulers which could potentially boost recycling.  
Greenfield noted that the city's efforts to get a better grip on waste management has definitely put New York on the right track, and new initiatives like municipal composting will have their benefits. However he expects that inevitable consumer confusion and a need for more community outreach could slow the process down greatly.
"[DSNY] is going to decrease waste drastically just with those basic steps. But zero waste? Come on. That's absurd, what are they talking about?"
Life after the 30-day mark
After Greenfield removes his suit on Oct. 19, the visual art will live on as a conversation piece across the country.
"[The suit] will be used for public speaking at schools to teach children about trash, and then it'll be on display in different places. In 2018 it's going to be on display at the Atlanta International Airport," he said. "So yeah, it'll be used for years to come. None of this trash will ever end up in the landfill. It'll all be used for a good purpose."
As Atlanta makes efforts to build a composing and recycling facility at the world's busiest airport, the suit will be a nice reminder for passengers from all over the world to make waste reduction a priority. As for Greenfield, he plans to take his sustainability missions out west.
His next adventure is to bike across the U.S. in the summer of 2017 and plant gardens along the way with anybody who would like to join. Greenfield noted that this challenge will not only encourage the public to take action, but will also allow him to be a positive example for communities across the nation.
"Put your money where your mouth is, put your effort where your mouth is, and make sure that your actions are lining up with your beliefs," said Greenfield. "Lead by example and be as proactive as you can be to try to affect change."