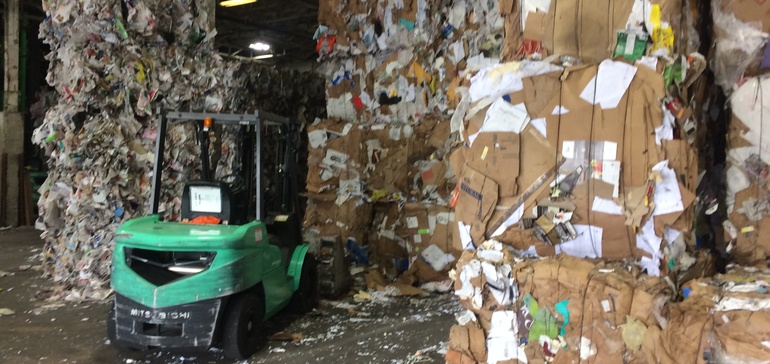 Deep Dive
Talkin' Trash: China's 2018 crackdown, Casella's acquisitions, and disposal waivers
In case you missed it: Thoughtful, newsworthy comments from industry professionals, consumers and policymakers.
"
As we have laid out over the last several quarters, given the continued tightening of the disposal markets across the northeast due to permanent facility closures and increased economic activity, coupled with changes in the recycling markets, we believe that we have an excellent opportunity to acquire select assets across our market areas."
— Casella Waste Systems CEO John Casella, in a Seeking Alpha report that his company had completed a $16.5 million acquisition of Complete Disposal Company and its subsidiary United Materials Management of Holyoke, MA. The company also acquired a tuck-in collection operation for $1.8 million from a small hauler in Vermont. 
The acquisition of Complete gives Casella Waste Systems a good foothold in western Massachusets and, according to Casella, will expand his company's C&D capabilities with a "state-of-the-art processing facility." It also matches with previous reporting that the company wanted to complete millions of dollars of deals in 2018.
"Foreign garbage has been widely denounced."
— Guo Jing, chief of the International Department at China's Ministry of Environmental Protection, on the country's ongoing scrap import crackdown. These comments appeared in an article released by government press agency Xinhua about how China continues to ramp up its domestic recycling efforts. According to the story, the government is requiring 46 cities to offer mandatory recycling by the end of 2020 and many have already begun implementing new systems.
This news comes as effects from the country's ongoing import restrictions, which could be broadened in 2019, continue to be felt around the world.
"The capacity dynamic is an outcome of the market dynamics because of the push for greater material quality and contamination. It is, at it's heart, a market issue."
— John Fischer, chief of commercial waste reduction and waste planning from the Massachusetts Department of Environmental Protection, in an interview with Waste Dive. The state has granted 21 disposal waivers for recyclable material since Nov. 2017.
Most of the waivers have expired. The capacity issues in Massachusetts aren't because of a lack of end markets, but because MRFs are slowing down to ensure higher quality. As more MRFs slow down — or run material through twice — they're unable to keep up with usual demand. DEP officials had no prediction as to how long the situation may continue. 
"If this stuff doesn't move, and we don't know what to do with it, we can't keep it forever. At some point, it's going to start to degrade. The other thing that could happen is that if we can't find outlets — and I'm not talking about just E.L. Harvey & Sons, I'm talking about the industry as a whole — we're going to stop bringing material into our facilities. And that's going to impact recycling programs throughout the country."
— Ben Harvey, CEO of E.L. Harvey & Sons, a Massachusetts waste and recycling company, in a report on the effects of China's tightening scrap import restrictions by PRI. Harvey told PRI he's hoping that the U.S. and China can work out an agreement to help make the scrap trade easier for U.S. recyclers — but in the meantime he's looking for alternative markets in Thailand or Vietnam. 
His concerns were reported by PRI as China's crackdown continues, with reports of 298 criminal cases involving "garbage smuggling" and a requirement that dozens of Chinese cities implement new waste sorting plans by the end of 2020.
"
We're evaluating different relationships and partnerships as we continue to grow in our new markets."
— Recycle Track Systems (RTS) CEO Gregory Lettieri, in an interview with Waste Dive, discussing his company's five-year contract with Citi Field in New York. RTS kicked off the contract by helping to recovering artificial snow and ice rink plywood from the NHL's 2018 Winter Classic to be reused, instead of disposed.
RTS will also work with the New York Mets, helping to maximize diversion with on-site assistance and education. Liettieri said the experience with Citi field could help his company expand into partnerships and contracts at other large venues around the country.
"The processing and incineration of trash cannot possibly be the highest and best use for approximately 100 acres of riverfront land, strategically located at the intersection of two major highways."
— Hartford, CT Mayor Luke Bronin, in a prepared statement reacting to the state's decision to move forward with upgrades to a decades-old WTE facility in the region. Connecticut officials chose a team led by Spanish company Sacyr to redevelop Hartford's Materials Innovation and Recycle Authority (MIRA) waste-to-energy facility, though the firm still has to enter a partnership with the city.
The proposed plan calls for at least 40% of incoming waste to be recycled (whether through anaerobic digestion, composting or enhanced recycling) and the rest processed through combustion. The facility already plays a key role by processing 900,000 tons per year, about a third of all waste generated annually in the state.
Top image credit: Cole Rosengren