In case you missed it: Thoughtful, newsworthy comments from industry professionals, consumers, and legislators.
"D.C. is a world-class city ... We want to be as green and as healthy as possible."
— D.C. Department of Public Works Director Christopher Shorter in an interview with Waste Dive regarding the District's new waste management efforts. Shorter discussed the recent solid waste report from DPW which highlighted the new "citywide residential diversion rate" and initiatives to move the city toward zero waste. 
"I am in favor of expanding the definition of what is waste food. We get to choose what's for dinner when really we need a pattern of eating that supports a landscape."
— New York-based chef Dan Barber in an interview with Bloomberg regarding his new food waste-focused pop-up restaurant in London dubbed "wastED." Barber, along with celebrity chefs like Gordon Ramsey and Tom Kerridge, will run the restaurant from Feb. 24 to April 2 to highlight dishes made from food scraps like fish heads and stale bread.
"If we are to reduce total emissions by 80% in 2050, we would have a very much harder time doing that if we don't also reduce methane."
— Marc Fischer, a researcher at the Department of Energy's Lawrence Berkeley National Laboratory, regarding a recent study that analyzed methane emissions in the Bay Area of California. Fischer and his colleagues discovered that emissions are likely 1.8 times higher than the regional Bay Area Air Quality Management District (BAAQMD) previously thought, largely due to landfills. 
"America is nearly saturated with recycling programs, and if recycling could be improved, it's surely not an issue of lack of programs."
— Adam Gendell, associate director of Sustainable Packaging Coalition (SPC), regarding the Coalition's most recent study on availability of recycling. The study determined that 73% of the U.S. population has access to curbside recycling programs and 21% has access to drop-off programs.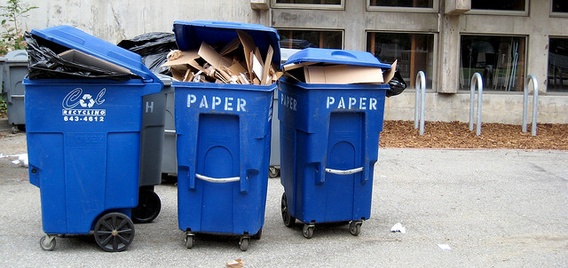 "New Yorkers have a hard enough time surviving and paying their rent without being driven out of their minds with new taxes."
— New York Sen. Simcha Felder regarding NYC's five-cent fee on paper and plastic bags, which is set to take effect on Feb. 15, as reported by Politico. This week, the New York State Senate voted to approve a bill that would ban this fee. In order to take effect, the bill now needs to be passed by the Assembly and signed by Gov. Andrew Cuomo.
"Nobody thinks it looks good to have a row of monster green trash cans lining your street, but I'll trade that for rats any day."
— Baltimore resident Mark Parker in an interview with The Baltimore Sun regarding the city's new 65-gallon residential carts. Since the city rolled out the new cart program, there has been a 34% drop in extermination calls for rats.