During a period of complex economic conditions and ongoing industry consolidation, waste and recycling executives are increasingly focused on creative ways to compete. 
Last week's WasteExpo's in Las Vegas gave perspectives from major players and fast-growing regional companies about how they're approaching acquisitions, recycling, pricing and labor in 2022.
M&A not cooling off yet
After closing out a near-record year for acquisition spending in 2021, with the total spending estimated to be around $5 billion, according to Stifel, the industry's publicly traded companies aren't necessarily expected to reach the same level of activity in 2022, but the space will remain active.
"The M&A environment still remains quite rich," said Michael E. Hoffman, a managing director at Stifel, in a session recapping his firm's private investor summit (cohosted with Waste360). "There are willing sellers, and stuff's happening."
Hoffman estimates the industry could see around $3 billion in spending by major companies this year, largely focused on small or medium deals, and valuations may have settled. Though, as executives and financial professionals noted throughout the week, the right assets can still command a premium price.
"High cash-generative businesses deserve high valuations — full stop — and the inverse is true as well," said Waste Connections CEO Worthing Jackman.
Jackman said his company's purchase of Massachusetts-based E.L. Harvey & Sons last year was a prime example. That platform has nearly doubled its revenues since, through subsequent acquisitions and access to greater resources.
E.L. Harvey President Ben Harvey said he remains happy with the decision, even though his initial response when executives from the Texas company wanted to visit was "don't waste your time." Jackman and Executive Chairman Ron Mittelstaedt led a visit anyway. The two sides kept talking, the Harvey team never actively engaged other suitors, and they ultimately made a deal, but it was a complicated choice.
"There's a lot of emotion that goes into making a decision of this magnitude," said Harvey. "If you're looking to do that, you want the purchaser to place the same value on your life's work that you place on it."
These smaller or medium-sized deals are an increasingly common trend, in part because of mounting operational pressures, but also because they may be some of the only acquisition moves left without expanding into related areas such as environmental services. The long U.S. Department of Justice review periods for recent deals led by WM and Republic Services were referenced multiple times throughout the event.
"The larger urban markets that have been through some consolidation, I think you're going to have a hard time, especially with this administration, getting through [the review process]," said LRS CEO Alan Handley, referencing cities such as Chicago, Minneapolis and Nashville where bigger companies already have large market share. "It will serve my platform, my company, very well."
Illinois-based LRS — which is still growing market share in many of the metro areas mentioned by Handley, among others — is on pace to do $600 million in sales this year, after expanding rapidly with 20-plus deals last year. Boosted in part by an investment from Macquarie Asset Management, the company could close nearly 20 deals in the first half of this year alone, Handley said.
During the same panel at the Waste360 Business Leadership Forum (hosted by Comerica Bank), speakers from private equity firms Summer Street Capital and Kinderhook Industries agreed the current M&A environment is particularly favorable for middle-market players.
In looking at other M&A drivers, last year's concerns around tax rate increases (which Harvey said was one factor in his sale) are less of an issue now. Labor, inflation and equipment scarcity remain common frustrations for sellers of independent companies.
"They can't find drivers, they're on the truck again, they're not happy, their quality of life is down," said Handley.
Active acquirers are now taking a closer look at the quality of management teams, staffing levels and fleets — with valuations shifting accordingly — but they will still pay well for the right opportunity. Handley said he recently paid a high price for a company with strong, underutilized assets and would potentially buy a company just to get access to its front loaders. Danny Ardellini, CEO of fast-growing Canadian company Environmental 360 Solutions, said he recently bought a company for its stockpile of unused containers.
Another potentially favorable outcome of the current economic turbulence for sellers is that revenue guarantees are becoming less common in acquisition agreements. Summer Street Managing Partner Brian D'Amico said he's tended to favor that approach for certain deals in the past, though LRS has moved away from it this year, and the other panelists had a similar position.
Opinions varied on what industry consolidation will mean for competition over time. Panelists at multiple sessions agreed that access to capital is much easier than it used to be, due in part to the proliferation of private equity firms engaging in waste and recycling, but the arrangement isn't necessarily right for everyone. Ardellini said part of the reason he sold a prior business to GFL Environmental in 2008 was that he didn't want to grow through that approach, whereas he has taken it this time around. Still, starting a company from scratch may not be as simple anymore.
"I think there's so many barriers of entry that I don't see people starting up and having the ability to build companies like they did 10 or 15 years ago," said Ardellini.
Some analysts have speculated that the traditional industry cycle of sellers coming back into the industry with a new company after their non-compete expires may become less common, but others say they don't foresee buyers running out of options.
"There's always new consolidation platforms and new middle-market, family-owned companies to buy," said Rob Michalik, a managing director of Kinderhook. "That regeneration has made this industry really exciting for us."
Recycling investment on the rise
After years of difficult markets for certain commodities, and a pivot to new fee structures that are more favorable to recyclers, industry executives have become increasingly positive about this part of the business. 
Republic CEO Jon Vander Ark said whereas recycling used to be priced at around 70% of the cost for solid waste, for open market customers, that has now shifted to 130%. 
"Customers are willing to pay more to do the right thing," he said, citing growing interest in plastics and other recycled commodities to meet brand content commitments. "It allows us to generate more returns, which allows us to innovate."
In addition to seeing growing demand for recycled material from big brands, companies are also more willing to invest in this space after watching a wave of new domestic end-market projects and advancements in sorting technology. Multiple growing companies are looking to recycling as a way to get a competitive edge against much larger players with vertically-integrated disposal assets, especially in regions with regulatory drivers.
"You hear Casella up here [on stage] earlier talking about their final disposal assets in the Northeast and how valuable they believe they are. Our job is to make sure we bring as little there as we can because they think they're so valuable," said Frank Antonacci, chief operating officer of Connecticut-based USA Hauling & Recycling. "We're looking at what's the cost to eliminate that ton from the waste stream, divert it to our own infrastructure someplace else. If we can do it for one dollar less than sending it to that final disposal, we're going to do it."
A subsidiary of USA Hauling announced plans for a $30 million MRF in Connecticut last year, which has already attracted a number of municipal customers. Mazza Recycling, which recently opened its own $15 million MRF in New Jersey, has also found newer technology to be an advantage over older MRFs — especially as disposal prices rose in the region following WM's acquisition of Advanced Disposal Services.
"There's not much landfill capacity left, it's hard to extend permits, so landfill prices are just going through the roof, and I see that going on for the next few years. So whatever we can do to keep material out of that stream to save an extra dollar, we'll do it," said Vice President Dominick Mazza.
This strategy also applies to other categories of material such as construction debris. DTG Recycle, a fast-growing company in Washington with its own C&D disposal presence, is making similar efforts to compete with larger players.
"The 'People's Republic of Washington' is a franchise state, and so our job is to cut off that stream, that river of material that's being classified as MSW," said CEO Tom Vaughn. "So we're constantly trying to get things not classified and get it into our facility versus the landfill."
Operating in a tight economy
Another key theme throughout the week was how an uncertain, inflationary economy has led to higher prices for labor, fuel and equipment. But, according to multiple experts, the worst may have already occurred.
"There are reasons for concern — clearly, the economy is softening — but I don't think we're headed into a recession," said Bill Adams, senior vice president and chief economist at Comerica. "You don't see employment going up by 5% when the overall economy is retracting."
Hoffman had a similar outlook, saying he thinks inflation may be peaking around the 4% to 6% range for the waste industry, or 9% when factoring in fuel. Recent first-quarter earnings reports backed up these numbers and showed the profit power of pricing actions. Hoffman called the industry "very nimble" in its pricing strategy, and he was among multiple speakers who urged attendees not to be afraid to increase prices given the relatively small share that waste and recycling costs comprise for customers.
"It's highly unlikely you're even in the top 10 on the level you want to raise it," he said.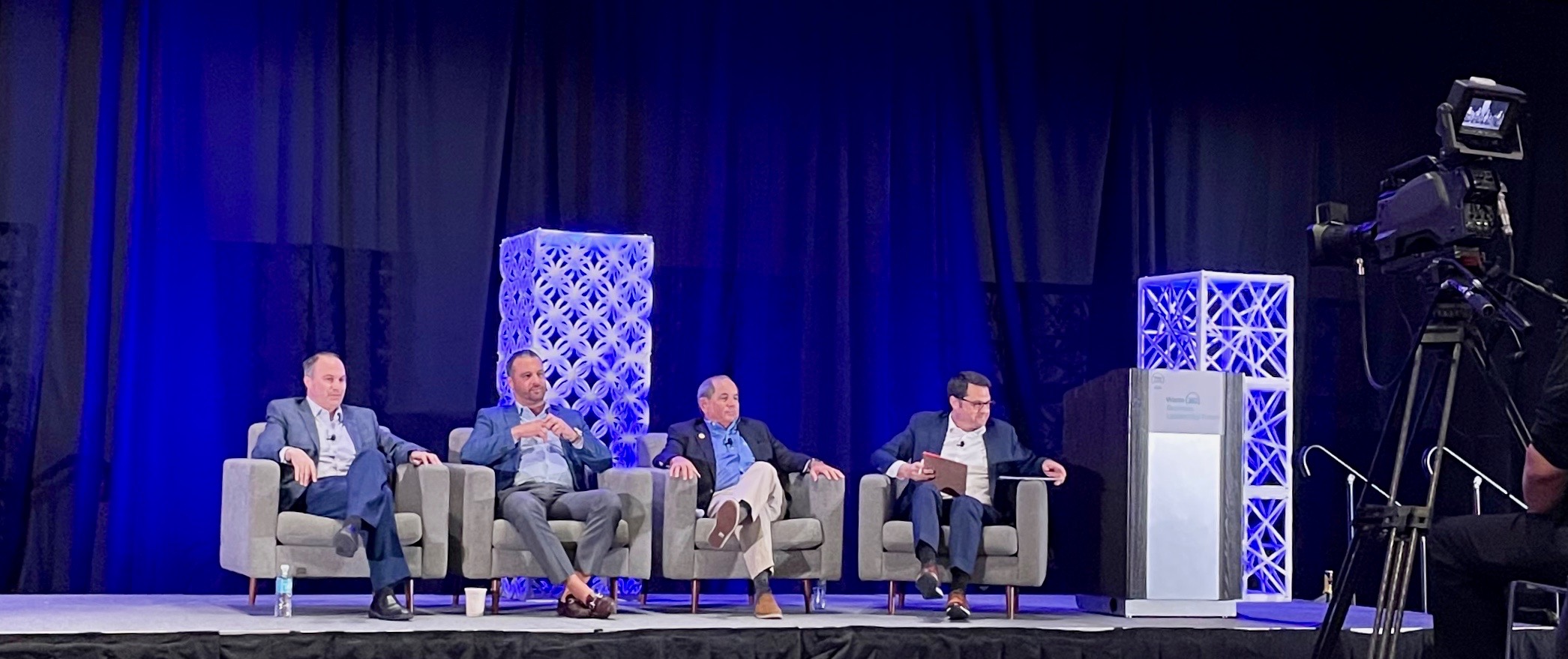 Executives from multiple companies, including Vermont-based Casella Waste Systems and Texas-based Integrated Waste Solutions Group, reported success with price increases and fuel surcharges. Coastal Waste & Recycling CEO Brendon Pantano said his company was more focused on adjusting baseline pricing than emphasizing surcharges. This has led the Florida-based company (which has grown to an estimated 700 employees since it was founded in 2017) to be more selective in its municipal bidding and place a greater emphasis on efficiency through technology.
"This business has gotten really competitive, and it's not just won on the street anymore. It's having great data to analyze and understand your business," said Pantano. "If you look at a FedEx or UPS, who can ship a package from California to New York in 18 hours, and we struggle to tell you when your dumpster's going to show up. We can do better."
Casella Chief Financial Officer Ned Coletta also said he felt like the waste sector is "10 years behind" other fleet-based businesses on technology.
As for labor, executives outlined various efforts to attract more applicants but also said it's important to be selective.
"It's not just drivers, you want good drivers. You don't want cowboys out there tearing stuff up," said Charlie Appleby, chairman of recently-established IWSG and a founder of Advanced.
Appleby said it can be hard to match tech company wages in the Austin area, and one of his competitors had poached numerous drivers through financial rewards. Some of those drivers ultimately returned to IWSG for its work environment, he said, but labor remains an ongoing struggle.
Coletta said Casella has found success creating new apprentice roles for driver and mechanic applicants, as well as launching a CDL training school. Out of 80 people who graduated from that program in the last year-plus, 77 have stayed on.
"We pull very few drivers from other waste companies. We're creating pathways in different ways," he said, noting turnover is still higher than he'd like.
Executives also pointed to women as a key demographic they hope to employ at higher rates. Hoffman said company leaders foresee the potential for women to comprise 30% of the industry's workforce within the next 10 years, up from an estimated 10% to 15% now. Vander Ark said Republic has expanded the number of women in roles such as general manager, and gender diversity is part of his own performance reviews, but other positions may be more challenging.
"People have talked about a driver shortage for 30 years and I can bet you 30 years from now they're going to talk about a driver shortage. I don't spend a lot of time worrying about that," he said. "What keeps me up at night is technicians, because I think that is a diminishing pool in the U.S."
Vander Ark said Republic's technician program in Dallas will soon be ramping up to 40 people per class, and it has the capacity to do 100. However, he said it can be even harder to fill these roles due to the need for less-desirable overnight shifts.
Even with all the complexities ahead, in terms of inflation and much more, company leaders across the board were quite bullish about the industry forecast.
"We're really optimistic," said Pantano. "Even with headwinds, there's just so much tailwind."