Dive Brief:
According to new statistics from the American Forest & Paper Association, the U.S. recycled a record-high 66.8% percent of paper last year. 77,895 tons of paper were disposed of in 2015.
This rate has nearly doubled since the AF&PA began tracking it in 1990. The association's members have set a goal of 70% paper recovery by 2020. 
Consumption of recovered paper at U.S. mills also increased in 2015 to 

30.9 million tons.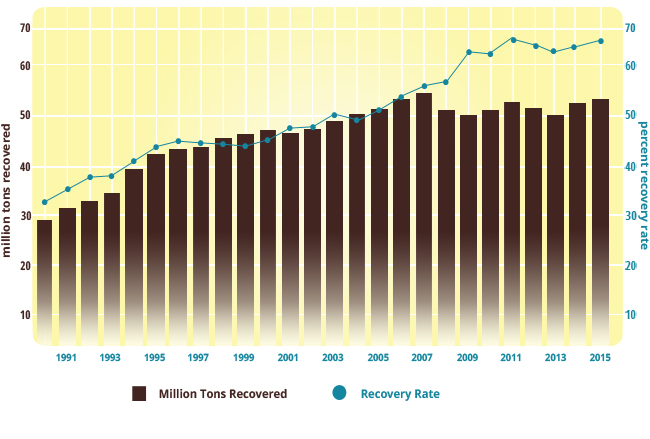 Dive Insight:
Paper continues to be one of the most successful categories of recycling due to increasing consumer awareness and relatively stable commodity prices. According to the AF&PA, more paper is recovered from municipal solid waste than glass, plastic, steel and aluminum combined. 
The majority of U.S. paper manufacturers now use recycled materials. Much of this recycled material goes into containerboard, boxboard, and tissue products. A large portion is also exported to China and other countries.
While many companies have encouraged the move to go "paperless" for bills and other documents in recent years, worldwide consumption is still high and recycling is key to the industry's future. Some recycling advocates worry that the shift toward single-stream collection—which often leads to paper contamination—could harm this progress. Though advances in organic waste processing mean greasy pizza boxes and soiled napkins which once went to landfills are now being recovered in greater numbers as well.