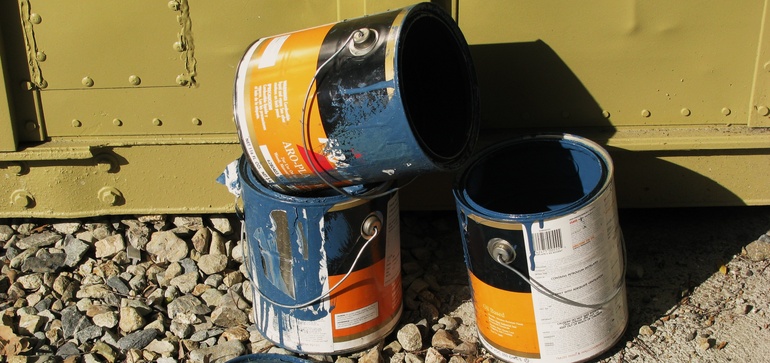 Brief
Colorado landfill awarded for using latex paint as a daily cover
Dive Brief:
Mesa County Solid Waste Management was recognized with a program innovation award from the North America Hazardous Materials Management Association for using a chemical mix containing latex paint as a daily landfill cover, according to Western Slope Now.
The landfill in Grand Junction, CO is the first in the state to use latex paint as its daily cover — a move that, so far, has saved the facility $11,300. Before adopting latex paint as a material for covering the landfill, the facility was collecting paint from customers and then paying to have it shipped out and properly disposed.
Earlier in its operation, the Mesa County Landfill had been using soil as its daily cover, but the area suffers a "soil deficit," Jennifer Richardson, a compliance manager for Mesa County, said to Western Slope Now. Since beginning the latex paint recycling program, the facility has recycled 3,800 gallons of paint.
Dive Insight:
Latex paint isn't usually accepted in its liquid form at landfills or other waste management facilities, leaving customers with the option of drying the paint or mixing it with cat litter or paint hardeners. Landfills that accept liquid paint either have to spend time drying out the paint or pay to have it shipped elsewhere for proper disposal — spending thousands of dollars, as demonstrated by the Mesa County Landfill.
Daily covers and final covers are, of course, crucial components of a landfill. Choosing the right material is vital to environmental integrity and human health. One concern with using latex paint as a cover may be the release of volatile organic compounds (VOC) from the paint into the atmosphere. VOC, once in the atmosphere, can react in the environment and create ozone, a compound that, at the surface level, is harmful to human health and can create smog. Compared to other sources, however, latex paint does not release high levels of VOC, especially as low-VOC paints become more popular — and is a greater concern for indoor air quality than outdoor air quality.
While breathing in latex paint is considered a small health hazard, some more traditional landfill covers, likes crushed glass, come with their own health risks. Breathing in dust particles, like from soil or other silica-based materials, can also be considered a health risk, especially if there is prolonged exposure. For landfill operators looking for a daily cover, then, choosing between the traditional methods and more creative methods (like using a paint mixture) may be less about health and environmental implications, and more about material availability.